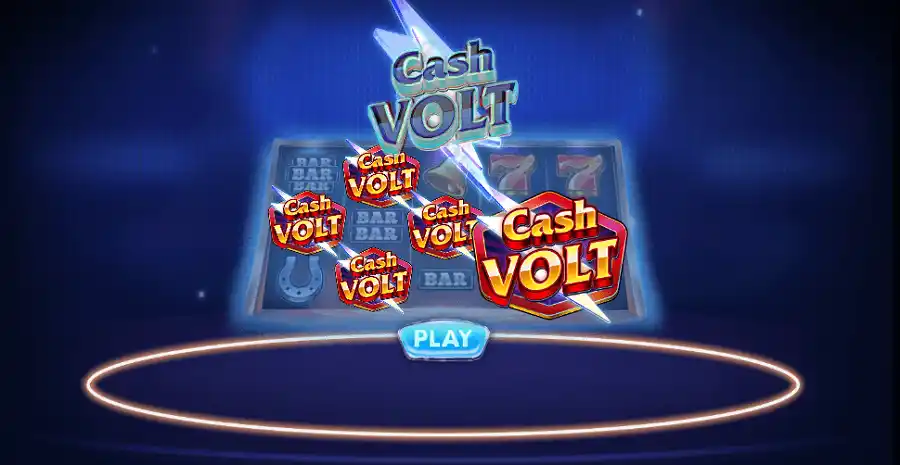 Cash Volt slot combines the simplicity and nostalgia of classic fruit slots with its graphics and gameplay together with what we've come to expect from a modern slot. It updates the classic formula of old-school slots with modern-day mechanics to create a simple and exciting game. The Cash Volt game is a 5x3 reel slot with 20 paylines and fun features like 15 tiers of instant wins and super symbols. This highly volatile slot by Red Tiger Gaming offers a maximum payout of x2,500 your wager and an RTP of 95.71%.
So, if this sounds like your type of online game to win real money, read on as we dig deep in this Cash Volt review to give you the dirt on everything you need to know about this game. We cover:
Pros & Cons
Pros
Simple
Fun
Great graphics and sound
Great instant cash bonus
Cons
Might be a bit too simple and straightforward for more experienced players
How to Play Cash Volt
There are a bunch of different local online casinos where you can play this game but for the purposes of this review, we'll be looking at how to play Cash Volt at Hollywoodbets.
Log into your account
Make sure you have enough funds in your account t play
There are two different ways that you can find the Cash Volt at HollywoodBets

Click on the SPINA ZONKE button on the left-hand side of the screen. Now you can scroll through the entire list of games or click on the RED TIGER GAMING button to see a list of all of the games made by this developer
The easiest way is to find the search bar and type in Cash Volt slot machine

Once the game has loaded, click the arrows on either side of the PLAY button to learn more about the symbols and features of Cash Volt
Set the amount you want to wager every time you hit SPIN
Hit the PLAY button to spin the reels
You can hit the TURBO button to speed things up
If you prefer to sit back and let the system do all of the hard work, you can always use the AUTOPLAY feature. With this feature, you can order the system to automatically spin the next 10, 20, 50, 100, or 200 games
Cash Volt Tips and Strategy
Unlike table games like blackjack, poker, or baccarat, which are considered to be games of skill and involve strategy, it's hard to head into an online slot like Cash Volt or Wild Trucks with any sort of plan to guarantee that you will come out ahead. That being said, there are a few things that you can do to give yourself the best possible chance of winning.
Be sure to view the information cards of the game before you start playing. You can learn important things about the game here, including what the different symbols are and how much they're worth, what the bonus features are, how they're activated, how they work, and what the winning paylines are.
Spend some time playing Cash Volt in free play mode. This'll give you an idea of what to expect when you're playing for real money
Play responsibly and set yourself limits. Let's say for example that I start the game with a R100 in my account. If I find myself up around R500, I might decide to cash out if I drop down to R200. That way I leave the game in a far better situation than I started. You might have different limits and you should always play in the way that suits you, and your budget, best.
Understand the game. Cash Volt is a high volatility slot. This means that the game doesn't pay out all that often but when it does, you can enjoy some seriously high payout from casinos.
Pro Tip: Know the RTP (RTP stands for Return To Player) of the game you're playing. For example, the RTP of Cash Volt is 95.71%. That means that for every R100 you spend, you should see a return of R95.71. The average RTP for a slot in an online casino in South Africa is 95%, so Cash Volt is slightly higher than average. It's important to remember that the RTP is just an average and there is no guarantee of what you'll earn After all, there wouldn't be much fun in playing a game if you knew exactly what to expect.
Cash Volt Demo
Want to give Cash Volt a go before playing for real money? Play for free with the Cash Volt demo version below.
Cash Volt Symbols
As with any slot, there are several different symbols in Cash Volt. These symbols are split into two different groups – high-value symbols and low-value symbols. To win, you'll need to match at least three symbols across your five reels to score a win. The more symbols you match, and the higher the value of these symbols, the more you win.

With it's simple gameplay, Cash Volt sticks to classic symbols and doesn't have any wild symbols.
Cash Volt Symbol Values
High-Value Symbols in Cash Volt
Symbol
Match
Value
Lucky number 7
Match 5 symbols
15 times your wager
Match 4 symbols
10 times your wager
Match 3 symbols
5 times your wager
Golden Bell
Match 5 symbols
12 times your wager
Match 4 symbols
8 times your wager
Match 3 symbols
4 times your wager
Blue Horseshoe
Match 5 symbols
9 times your wager
Match 4 symbols
6 times your wager
Match 3 symbols
3 times your wager
Purple Star
Match 5 symbols
6 times your wager
Match 4 symbols
3 times your wager
Match 3 symbols
2 times your wager
Low-Value Symbols in Cash Volt
Symbol
Match
Value
Blue Bars
Match 5 symbols
4 times your wager
Match 4 symbols
2 times your wager
Match 3 symbols
1 times your wager
Purple Bars
Match 5 symbols
3.5 times your wager
Match 4 symbols
1.6 times your wager
Match 3 symbols
0.8 times your wager
Green Bars
Match 5 symbols
3 times your wager
Match 4 symbols
1.4 times your wager
Match 3 symbols
0.7 times your wager
Lemons
Match 5 symbols
2.5 times your wager
Match 4 symbols
1.2 times your wager
Match 3 symbols
0.6 times your wager
Cherries
Match 5 symbols
2 times your wager
Match 4 symbols
1 times your wager
Match 3 symbols
0.5 times your wager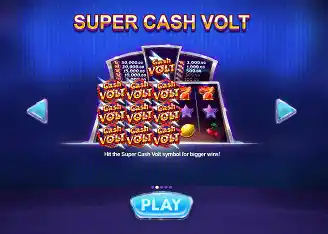 Cash Volt Bonus Features
If you were to judge Cash Volt purely on first impressions, you'd be forgiven for thinking that the only way to win in this game is by matching the symbols as we have them listed above. However, you'd be wrong. Cash Volt has a special symbol, the Super Symbol. While regular Cash Volt tiles come in a regular 1x1 size, the Super variants can appear as 2x2 or 3x3 symbols. In our opinion, it's this awesome bonus that makes Cash Volt one of the very best retro slots around.
Above the reels, you'll find some rather tasty numbers…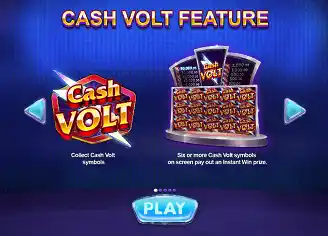 All you need to do to claim these instant cash prizes is match those special Cash Volt symbols six times or more across all of your reels and rows.
Cash Volt Symbols Payouts
| Match | Win Amount |
| --- | --- |
| Match 6 Cash Volt symbols | R100 |
| Match 7 Cash Volt symbols | R300 |
| Match 8 Cash Volt symbols | R500 |
| Match 9 Cash Volt symbols | R1,000 |
| Match 10 Cash Volt symbols | R2,000 |
| Match 11 Cash Volt symbols | R5,000 |
| Match 12 Cash Volt symbols | R10,000 |
| Match 13 Cash Volt symbols | R15,000 |
| Match 14 Cash Volt symbols | R20,000 |
| Match 15 Cash Volt symbols | R50,000 |
Cash Volt Payout and Volatility
The maximum amount you can win while playing the Cash Volt game is x2,500 times your wager. While the maximum amount you can with the instant cash prizes is R50,000 if you manage to match 15 Cash Volt symbols across the screen. And with Cash Volt being a highly volatile slot, the bigger wins might not come around all that often but when they do, they'll make it worth the wait!
If you're looking for some big payouts, check out our list of the Highest Payout Casinos in South Africa.
Cash Volt Graphics
With Cash Volt playing the nostalgia card, you'd be forgiven for assuming the graphics would be on the level of your old 8-bit video game system but you'd be wrong. The graphics are vibrant and are a modern interpretation of the classic slot symbols, bringing them firmly in 2023.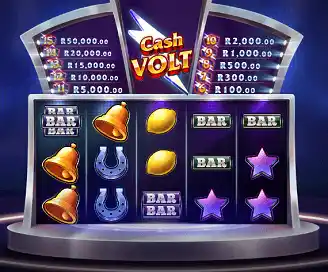 The graphics are nicely matched by an upbeat and funky tune that can easily be tuned out without it grating on your nerves. The graphics load quickly and are quite crisp and clear. The navy blue background reminds us of the pool tables of our youth, adding to the nostalgic charm of this casino game.
Cash Volt on Mobile
If you're like most players and play your favourite casino games from mobile devices, you'll be glad to hear that Cash Volt runs like a charm at both Android casinos and iOS casinos. There's absolutely zero difference in the gaming experience you'll enjoy from your phone or desktop/laptop.
Both versions feature all of the same options and have the same graphics and soundtrack. We preferred to play Cash Volt at a mobile casino on our phone in portrait mode. It gave us the largest view of the game. Yes, you could click the fullscreen option on your laptop or desktop but then you'd lose the ability to switch between windows and programmes.
Should You Play Cash Volt?
If you're into retro slots then Cash Volt should be right at the top of your list. The game hits that classic fruit slot look but in a way that makes it feel right at home in 2023. We love the instant cash prizes, modern yet timeless graphics, and just how simple it is to play. Sure, if you're an old hand then this might not be the game for you. But if you're a newbie or just enjoy simpler slots, we have zero hesitation in recommending Cash Volt.
Best Casinos to Play Cash Volt for Real Money
Other Online Slots You May Be Interested In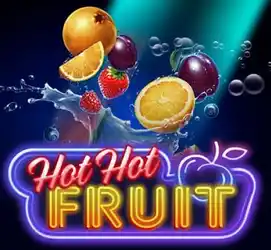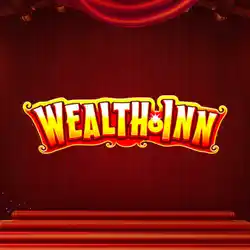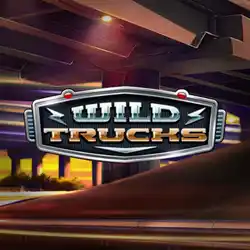 FAQ
How do you win the jackpot on Cash Volt?
Winning the jackpot involves landing a specific combination of symbols on the reels. You can win the big jackpot at any time while playing any of the connected jackpot games. To win it, you just need to spin the reels – no extra decisions required. And remember, the bet amount stays the same during free spins, you can't change it.
Does Cash Volt have a unique bonus feature?
We're glad to say that it does for two reasons. The first is that the bonus feature sets Cash Volt apart from the hordes of bog standard retro-style slot games. The second reason is that the bonus feature in Cash Volt is one of our favourites! While you're playing, you'll notice the board above the reels that boasts some pretty impressive numbers. All you need to do to get in on this action is to match six or more Cash Volt symbols. Depending on how many symbols you match, you can win an instant cash prize of anything between R500 and R50,000!
The RTP for Cash Volt is 95.71% and is slightly above the industry average for games of this type which sits at 95%. What this means is that for every R100 you spend playing Cash Volt, you can expect to see a return of R95.71. Just remember that this is just an average and is by no means assured.
What is the difference between a high-volatility slot and a low-volatility slot?
Volatility refers to the size and frequency of payouts of a slot game. A game that is considered to be a high-volatility slot, like Cash Volt, means that the game does not pay out regularly BUT when it does, it tends to pay out big! Low-volatility slots are slots that pay out smaller amounts more often. One is not better than the other, it simply depends on your preference. What we can tell you is that if you're looking to win big, you'll be better off going with a high-volatility slot like Cash Volt.
Are online slots fair to the player?
As long you are playing at an online casino that is licensed and regulated by an official body like the South African National Gambling Board or the Gauteng Gambling Board, you should be fine. Boards like these make sure that you're favourite online casino is following all of the rules and regulations and that you stand a fair chance. one of the things that help ensure fairness is something called a Random Number Generator (RNG). it is used on all slots, and as the name suggests, it ensures that the results of your spins are truly random.
Get in on the action
Sign up now for the latest bonuses, promotions, and new online casinos.
Have You Found What You're Looking for?
Your feedback is paramount!