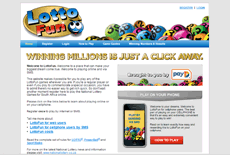 Operated By: On Line Lottery Services Pty Ltd
Established: 2000
Currencies: South African Rand (ZAR)
Ticket Prices: R5
Draw Days: Wednesday and Saturday
Bonus: Largely convenient to
Lotto Fun Summary
Lotto Fun is a local website catering to the local market. What's great about this is that this isn't an international site that happens to sell South African lotto tickets amongst its other wares – it's a purely local site based in Johannesburg.
From the perspective of convenience, this is about as easy as you can get when you want to play the lotto from the comfort of your own home. The site accepts South African rand and works entirely in this currency – there's no need to go through an offshore payment processor just for the benefit of being able to play the lotto
Visually, the site is clean and easy to navigate, and largely functional despite not fronting the kind of glitzy flash that some online lottery sites tend to shove in your face. It's easy to find what you're looking for on the site with a minimum of clicking, and its minimal style means that its a better place to find the South African lotto results than the official Lotto website.
The site has a massive sense of humor as well, which makes it fun to use. A great feature, for example, is it's Wacky Picks section, designed to help you choose the lotto numbers that you'll end up playing in the draw.
Lotto Fun Online
allows you to choose between three extremely bizarre advisers who will dig deep into their wisdom to reveal the lotto numbers they think you should play. Our personal favourite is Bert the Frog. Once you select him as your adviser, you have to find him in the lily pond by clicking over leaves until he turns up.
Once you have revealed him, he will tell you the (supposedly) winning lotto numbers as a series of croaks and rabbits. It's ridiculous, but amusing, and not a bad way to pick the winners as they go.
Ultimately, the core purpose of Lotto Fun is to allow you to play the lotto over the internet without having to go down to the nearest shop to buy a ticket. It's great for those last minute lotto buys when you want to get into a big draw but you don't want to leave the house. You can even purchase international lottery tickets without leaving the house.
You can also consult our list of lotto sites to find out where else to purchase tickets.