Evolution Gaming is one of the unavoidable brands in the iGaming industry. It is also one of the biggest providers of B2B services in iGaming. The group includes several well-known brands and serves hundreds of online gambling operators worldwide.

Evolution blasted into the market in the mid-2000s with an innovative product that changed how people play casino games online. Today, it is among the most recognizable companies in the iGaming industry, providing B2B services to the top operators worldwide.
Evolution Gaming Casinos South Africa
🔔 Advertising Disclosure: playcasino.co.za contains affiliate links to partner sites. By clicking these links and making a deposit PlayCasino may earn a commission. This does not impact bonuses or result in extra charges for players. Our reviews and recommendations remain impartial.
Who is Evolution Gaming and what do they do?
Evolution Gaming is the leading multichannel B2B online casino services provider today. Its innovative software and well-established infrastructure are more than enough for its partners, some of the leading consumer-facing iGaming brands. 
Evolution Gaming was founded by Jens von Bahr, Fredrik Österberg, and Richard Hadida in 2006. It was among the first companies to venture into the unexplored realm of live dealer casino games that many have tried to crack before them. They have opened their first studio in Riga, Latvia, offering the basics - roulette, blackjack, and baccarat.
Today, Evolution Gaming has more than 17,000 employees in its headquarters in Stockholm, Sweden, and in its offices and studios worldwide. It has licenses in almost every regulated market on the planet, and among its partners, you find the leading operators of the iGaming industry.
| | |
| --- | --- |
| Website | https://www.evolution.com/ |
| Location | Sweden |
| Licenses and Jurisdictions | EU states, Georgia, UK, Canada, South Africa, Curacao, Bahamas, Gibraltar, US |
| LinkedIn | https://www.linkedin.com/company/evolution-global |
| CEO | Martin Carlesund |
| Number of employees | 17447 |
| Number of games | 30+ Live, 500+ RNG |
| Type of games | Live dealer games, Live game shows, First-person table games, RNG games |
| Technology used | HTML5 |
All information provided is as of writing (09-2023)
Who is the CEO of Evolution Gaming?
The company's CEO is Martin Carlesund, who has been part of the Evolution family since 2015. Before joining Evolution, he was CEO of Highlight Media Group, a company providing online marketing services to clients in the iGaming and other sectors, Eniro, and 3L System. He holds a finance degree and is knowledgeable in computer science, maths, and law.
Top Evolution Gaming Slots & Casino Games
Evolution Gaming started as a provider of live dealer casino games, and even today, this is its main focus. Over the years, it has acquired several leading game development studios and solutions providers.

Live Casino
Live dealer casino games are Evolution's specialty. They were among the first companies to offer traditional roulette, blackjack, and baccarat in a live dealer format. Later, they expanded their game library with variants of these games and many others.
Still, their most popular titles are:
Live Game Shows
Game shows have moved from the TV screens to the internet, thanks in part to Evolution Gaming. The company offers several of live casino game shows, some with their own brand.
First Person Games
Playing a casino game for real money against a live dealer is one thing. Playing it in a fully immersive way, in first person, is another. This is why Evolution took its live dealer games to the next level by introducing a first-person perspective in 2020. Today, Evolution offers its customers some of its most popular live dealer games in a first-person setting:
First-person roulette, blackjack, craps, and baccarat
First-person Deal or No Deal
First-person Dragon Tiger
Slots
Originally, Evolution Gaming didn't deliver any online slots, focusing exclusively on live dealer games. Later, it acquired several well-known studios, making it one of the leading slot game providers worldwide.
NetEnt
NetEnt, a Swedish game developer with a long history, became part of the Evolution family in 2020. The multiple-award-winning studio continues to release its signature games with the usual quality under Evolution's umbrella.
Red Tiger
Red Tiger was founded in 2014 by a group of iGaming veterans and immediately started expanding. That was until it was acquired by NetEnt in 2019. And it became part of Evolution Gaming in 2020.
Big Time Gaming
Founded in 2011 by Australian entrepreneurs Nik Robinson and Huw McIntosh, Big Time Gaming is best known for introducing the innovative format Megaways in the mid-2010s. Megaways became a massive hit and was licensed by pretty much every major game developer out there. BTG was acquired by Evolution Gaming in 2021.
NoLimit City
Founded in 2014 by NetEnt alum Jonas Tegman and Jens von Bahr, NoLimit City has taken the industry by storm with its innovative themes and bold approach to online slot machines. And in 2022, it has become part of the Evolution family.
Best Evolution Gaming Slots
Evolution Gaming Awards
Evolution Gaming is not just the leading provider of live dealer casino games in the industry but also the one with the most prestigious awards. For 12 years, it has been selectedas the Live Casino Supplier of the Year, most recently at the 2021 edition of the EGR B2B Awards.
Aside from this prestigious award, Evolution keeps collecting trophies at industry events and trade shows
RNG Casino Software award for First Person games
NetEnt and Red Tiger won the Innovation in Slot Provision award
NetEnt won the Mobile Gaming Software Supplier of The Year award in 2021
NetEnt and Red Tiger won the Slot Supplier of the Year Award at the 2022 EGR B2B Awards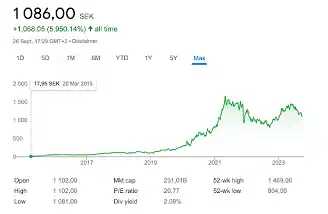 Evolution Gaming Share Price
Evolution Gaming is a publicly traded company, with its shares being initially listed on Nasdaq First North Premier on 20 March 2015. The shares then commenced trading on the main market of Nasdaq Stockholm on 7 June 2017, marking a significant milestone for the company.
The Investor section on their website offers a variety of tools for shareholders and interested investors, such as a historical price lookup and a total return calculator. These tools can help you analyze the performance of Evolution Gaming's share price over time, which is naturally changing constantly.
Based on the data, it's clear that there is a significant positive trajectory in Evolution Gaming's share price over the last five years, boasting an impressive 876% increase.

Is Evolution Gaming a good investment?
Yes, we think it is. According to Nasdaq, Evolution has showcased substantial free cash flow of $720 million in the last 12 months, indicating solid profitability, which is attractive for investors. The positive uptrend in free cash flow from merely $20 million in fiscal 2016 to its current figure is a strong indication of Evolution's growing profitability and financial health.
This upward trend is not merely a stroke of good fortune, but rather an outcome closely aligned with the company's fundamental strengths. The company's long-term shareholder returns reflect a healthy correlation with its business fundamentals.
Evolution's share price has shown steady growth in the last few years, and there is no reason why it shouldn't continue in the coming years. This Evolution gaming a great investment choice.
Evolution Gaming Annual Report 2022
Evolution Gaming is releasing new games at an unprecedented rate. In 2022 alone, it has launched 88 new titles, and its plans for this year are even more ambitious. But it doesn't forget about live dealer games, either.
According to its Annual Report, Evolution Gaming had 17 studios in 2022, with over1300 live dealer tables serving both Evolution and Ezugi-branded live dealer games. Its first live dealer studio in Riga, Latvia has grown into its innovation hub, where it develops, tests, and deploys new games.
Evolution Gaming Finances & Profit
| Group (EUR thousands) | Apr-Jun 2022 | Apr-Jun 2021 | Jan-Jun 2021 | Jan-Jun 2021 | Jul 2021-Jun-22 | Jan-Dec 2021 |
| --- | --- | --- | --- | --- | --- | --- |
| Operating revenues | 343,958 | 256,687 | 670,725 | 492,528 | 1,246,974 | 1,068,777 |
| EBITDA margin | 69.3% | 68.0% | 69.8% | 68.0% | 69.6% | 68.7% |
| Operating margin | 62.4% | 60.7% | 62.9% | 60.4% | 62.4% | 61.2% |
| Profit margin | 58.4% | 56.3% | 59.4% | 56.1% | 58.3% | 56.6% |
| Equity/assets ratio | 82.0% | 86.1% | 82.0% | 86.1% | 82.0% | 81.8% |
| Cash and cash equivalents | 293,915 | 200,392 | 293,915 | 200,392 | 293,915 | 421,432 |
| Average number of full-time employees | 10,412 | 7,653 | 10,054 | 7,379 | 9,520 | 7,917 |
| Full-time employees at end of period | 10,570 | 7,835 | 10,570 | 7,835 | 10,570 | 8,987 |
| Earnings per share before dilution (EUR) (IFRS) | 0.94 | 0.68 | 1.87 | 1.30 | 3.40 | 2.83 |
| Equity per share (EUR) | 14.62 | 14.03 | 14.62 | 14.03 | 14.62 | 14.91 |
| Operating cash flow per share before dilution (EUR) | 0.87 | 0.59 | 1.78 | 1.07 | 3.51 | 2.80 |
| Average number of outstanding shares | 213,454,250 | 212,695,352 | 213,329,750 | 212,511,180 | 214,123,861 | 213,714,575 |
| Number of outstanding shares at end of period | 213,205,250 | 213,432,040 | 213,205,250 | 213,432,040 | 213,205,250 | 213,952,250 |
Over Verdict on Evolution Gaming
Evolution Gaming is one of the leading iGaming companies in the world. It is a trendsetter, an innovator, and a renowned partner both for B2B and B2C operators. Its portfolio of products covers every aspect of the iGaming industry, from RNG slot machines to elaborate virtual experiences and game shows.
Evolution stands out with its quality games, innovative solutions, and global presence. What we miss, in turn, is the release of more licensed RNG games, especially by NetEnt, whose similar titles won awards upon awards in the past.
Evolution Gaming FAQs
Where can I see the Evolution Gaming share price?
What country is Evolution Gaming from?
Evolution Gaming was founded in Sweden, and it has its current headquarters in Stockholm
What is the net worth of Evolution Gaming company?
As of September 2023, Evolution Gaming has a market capitalization of $23.31 billion.
Is Evolution Gaming legal?
Of course, it is. Evolution Gaming has licenses in every jurisdiction around the world.
How does Evolution make money?
Evolution Gaming makes money by providing B2B and B2C iGaming operators with live dealer and RNG gaming services.
Get in on the action
Sign up now for the latest bonuses, promotions, and new online casinos.
Have You Found What You're Looking for?
Your feedback is paramount!