What Is Monopoly Big Baller?
Before we discuss how to win in Monopoly Big Baller, let's take a look at the game in a more in-depth way.
Firstly, it's essentially a fast-paced Bingo game played with 4 cards. You win prizes by completing lines on these cards. You can also play the 2 extra Bonus cards, the 3- and 5-Roll. If either/both of these get completed, you'll gain access to the Monopoly board-based Bonus round.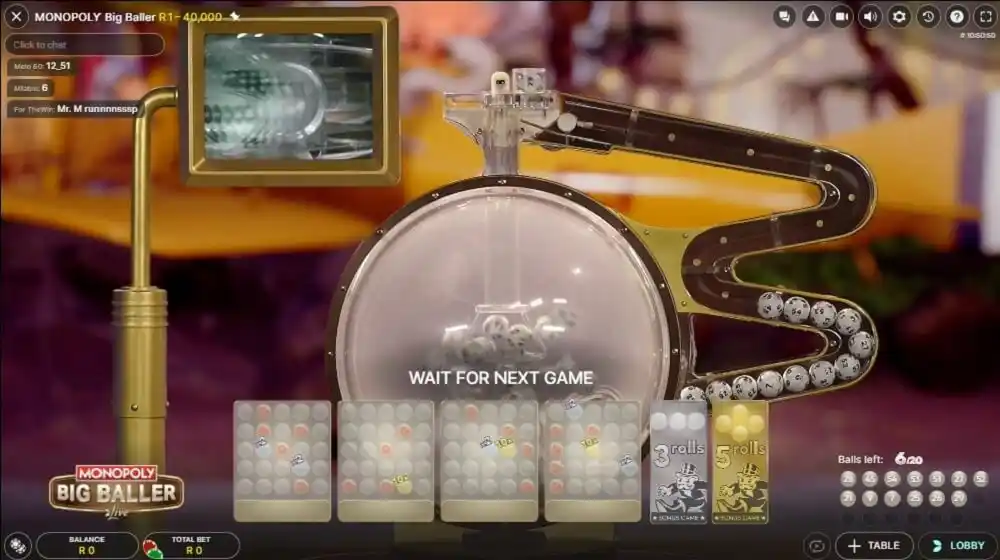 Each card contains 25 numbers displayed in a 5x5 grid format. And for each round of the game, the presenter will draw 20 balls from a Bingo machine containing 60. There are 2 types of Bingo cards available:
The Chance Card
These are given a Multiplier in the centre, so if there's a completed line passing through this part of the card, you'll receive an increased payout.
The Free Space Card
The centre spot of the Free Space Card is empty, which means it helps to complete lines running through the middle.
Once the Monopoly Big Baller cards have received their numbers, Mr Monopoly will randomly add free spaces and Multipliers, both of which increase the probability of lines getting completed and payouts being boosted.
How To Play Monopoly Big Baller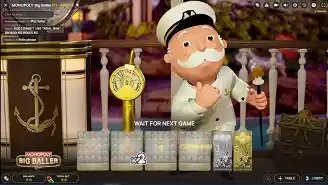 Now let's discuss how to play Monopoly Big Baller:
The Monopoly Big Baller game starts with 12 seconds of betting time. This is where you'll need to decide how many of the Bingo cards you're going to play, bearing in mind that they can all be played at once! You can also mix up the combination of the Chance and Free Space cards as you like, deciding how many of each to activate.
After you've chosen your bet amount, click on the bet spot on the cards you want to play.
Randomly generated numbers will pop up on the 4 Bingo cards and the 3- and 5-Roll Bonus cards.
When the betting time has closed, Mr Monopoly will pull a lever, which will add a random selection of free spaces and Multipliers to the cards.
The Bingo machine will spring to life, choosing 20 from the 60 coloured balls bouncing around the plastic orb. As each number is drawn, it will be daubed with a red dot if it also appears on the card.
Check the right side of your screen for a summary of Monopoly Big Baller stats.
Once the selection of 20 balls has been completed, the game software will total any winning lines you have and apply any active Multipliers.
Your payout will be displayed on the screen, and the money you've won will be credited to your account.
Monopoly Big Baller Bonuses
The Bingo cards in Big Baller Monopoly have 3 types of Chance Multipliers assigned to them:
Global
The Global Multiplier is a 2x or 3x value that will multiply any wins on a card by the amount indicated. It also increases the value of other Multipliers on the card.
Line
This is a 20x or 50x Multiplier assigned to an entire line. If the line ends up winning, that Multiplier will be added to the payout you receive.
Standard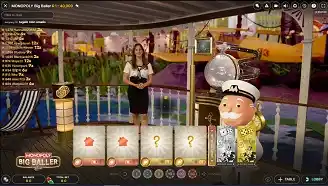 This is a Multiplier of 10x or 20x assigned to a particular number. If one of your winning lines contains this number, those winnings will be boosted by whatever amount is on the card.
Monopoly Big Baller also has a Free Spaces Bonus, where empty spaces are randomly applied to the cards, making it easier for a winning line to be formed. Free Spaces act as drawn numbers, so they're great if you need fewer numbers in a line to win.
Next up in our How to Win Monopoly Big Baller tutorial is an explanation of the Bonus Round, the part of the game where you can win big Multipliers. This is where the 3- and 5-Rolls come in. Every Bonus Round is identical in terms of how it gets played, but the number of rolls changes, and you could even see both Rolls triggered at the same time. If this happens, one will follow the other.
The Bonus Round contains a Monopoly board and Chance, Community Chest, Free Parking, Go to Jail, properties, and Super and Income Tax squares. Each square in the game is assigned Multipliers as the Big Baller Monopoly Bonus Round begins, and these will be boosted by random hotels and houses dropping onto them.
Mr Monopoly starts on the GO square just like the tokens in the actual game would. Two dice get rolled, displayed onscreen in a blimp floating across the board, and Mr Monopoly will then move according to the total of the dice.
A 3-Rolls Bonus gives 3 rolls of the dice, and a 5-Rolls Bonus 5. If a double gets rolled, Mr Monopoly will move the required spaces and whatever the extra roll after that says. If the Monopoly Big Baller square he lands on contains a Multiplier, this amount will be credited to your account. If he lands on the Income Tax square, your win will be reduced by 10%, if it's the Super Tax square, the reduction will be 20%.
Landing on the Go to Jail square will send Mr Monopoly to jail, and he'll need to roll a double before he can get out. The Chance and Community Chest squares may award a prize, but they may also deduct a mystery amount from your win total. If Mr Monopoly gets around the board, passing the Go square, all upcoming Multipliers will be doubled.
Where To Play Monopoly Big Baller in South Africa
Pros and Cons
Pros
It's 100% mobile-friendly
The host provides a fantastic atmosphere and the 3D animations provide a very pleasing visual experience
It's easy to play and fast-paced, ideal for playing when you need some downtime
Cons
No guaranteed Monopoly Big Baller strategy exists because it's a game of chance
Monopoly Big Baller Strategy
There's no hard and fast rule that will apply every time when it comes to how to win Monopoly Big Baller. The truth is, your best Monopoly Big Baller strategy lies in controlling how you bet and getting the most bang for your buck.
Consider limiting yourself to not betting more than 10% of your available bankroll in each game round. If you do this, the worst-case scenario is that you lose 10 times and have to call the whole thing off! Do yourself a favour and start with a bankroll that will allow you to play 25 rounds instead: simply divide 10% of your bankroll 25 times, and you'll have your bet amount for gameplay.
Is There A Monopoly Big Baller Demo?
Unfortunately, there's no Monopoly Big Baller demo, but you can search YouTube for videos about the game that will give you a great idea of what to expect. This gives you a real feel for what to expect when you give it a go.

Monopoly Big Baller Payout and Volatility
When you play Monopoly Big Baller, big wins are possible, with payouts for completed lines ranging from 2x up to a massive 199x the triggering bet, depending on which of the Bingo cards you're playing.
Payouts are simple in that you're betting on a card, not an individual line, but you get payouts for each line win on the card you've activated.
When playing Monopoly Big Baller, big wins are possible because of the variable volatility. The base game has medium volatility, and the Bonus Rounds are high volatility.
Monopoly Big Baller Experience
Evolution is one of the best developers in the business, and this game is ample evidence of why this is the case. For example, you can view built-in Monopoly Big Baller stats showing how many balls have been drawn and how many remain for each game round, allowing you to adjust your betting amounts appropriately. And you may ask a Moderator in the Live Chat portal what the previous Multipliers for Bonus Rounds have been.
Monopoly Big Baller On Mobile
Like other Evolution live casino games, Monopoly Big Baller is 100% mobile-friendly, and you can play it on the go using your cell phone or tablet.
Monopoly Big Baller Stats
Monopoly Big Baller trackers are easy to find online, and with a quick search, you'll be able to view 3- and 5-Roll appearances on games. Monopoly Big Baller stats on what the drawn balls have been, how many Bonus Rounds have kicked off, and how many Bonus Games have been launched are also available at these tracker sites.
Should You Play Monopoly Big Baller?
The answer to this question is a resounding yes from the PlayCasino team! Big Baller Monopoly is a hybrid of Mega Ball and Monopoly Live and is just as fun - and as successful - as these games are.
The best aspects of Monopoly Live have been improved in this title, with the increase in the roll so the dice gives players that much more chance of unlocking more money and increasing their Multipliers many times. Hasbro's icon designs are in place, and the fun riverboat location makes Monopoly Big Baller feel like a true successor to Monopoly Live. We loved it, and we're sure you will too.
Other Live Casino Games You May Be Interested In
Each of these casino games combines popular elements of money wheels, game shows, or board games so they feel familiar while still being loads of fun. Not to mention very rewarding.
FAQs
How does Monopoly Big Baller work?
Once you've placed your bets on the cards, 20 random balls get drawn. If the number on these matches any of your cards, they'll get daubed, and you'll get a payout for each complete line.
Where can I play Monopoly Big Baller?
South Africans can play this Evolution game at Betway, Tusk Casino, and 10bet Casino.
What is the minimum bet of Monopoly Big Baller?
Betting starts from as little as R1.
What is the maximum payout of the Monopoly Big Baller Live Dealer Game?
The maximum payout is set to R5 Million.
Who has developed Monopoly Big Baller?
The game is developed by Evolution.
References
Get in on the action
Sign up now for the latest bonuses, promotions, and new online casinos.
Have You Found What You're Looking for?
Your feedback is paramount!