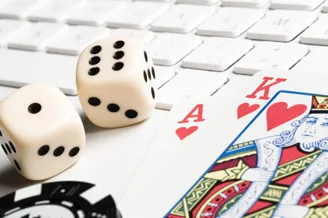 Ghaleb Cachlia, the South African Democratic Alliance party member, brought a chuckle to the gambling industry last week after he issued a statement essentially mocking the ANC's decision on internet gambling. Cachilia said that he was quite boggled by the statements that the Department of Trade and Industry had made about the regulation of online gambling in South Africa.
The DA MP pointed out Trade and Minister Robe Davies' desire the support the SA Casino Association after the group representing land-based casinos in South Africa called for a crackdown on illegal online gambling or the legalization of such sites. CASA also called for the regulation of a legalized online gambling industry.
According to Cachalia, a gambling policy from 2016, which was clearly "flawed" had led to the opinion in government circles that online gambling should be banned. However, he believes that banning internet gambling will not be good for the economy, nor will it be a practical thing to do.
<!--more-->

"Proposals include clamping down on advertising and unsolicited messages to entice vulnerable groups to gamble," wrote Cachlia. "The biggest clampdown will be made on unlawful winnings via south africa online gambling."
Cachlia pointed an accusatory finger at the chief director of policy and legislation at the Department of Trade and Industry, MacDonald Netshitenzhe and claimed that he was the man that was "responsible for this mess in the first place."
Cachilia wrote that Netshitenzhe had said: "We can stop online gaming by banning the internet."
He blasted the ANC for ignoring the gambling bill which suggested looking at the gambling industry holistically, and to incorporate online gambling. Instead, the government voted to deal with only three matters and ignore the rest.
"The bill was considered by the committee in record time, only a few months after being introduced, and speaks to how flawed this process is," said Cachalia.
"Here again we see the usual undue haste, the railroading, the strong-arm tactics of an ill-considered bunch of legislators, led by the nose by a minister who believes that the state's duty is to facilitate the spiritual redemption of men by impoverishing them in this life.
"This conflation of communism and religious flagellation is mind-boggling."
About Playcasino.co.za: 
Playcasino.co.za is the no1 online gambling guide for sa casinos online. If you're looking for safe, legit, and legal casino South Africa online offers with the best online games and free no deposit bonus codes, you are in the right place.