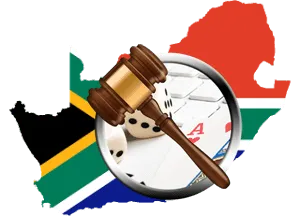 Has the South African government taken its toughest stance on internet gambling yet? If the new National Gambling Amendment Bill is anything to go by, industry experts agree that this is a new low reached by the Department of Trade and Industry. Last week, this government body published the new bill and showed that it meant business for South Africa's online gambling industry. The bill proposes several ways to tackle what the DTI considers illegal online gambling, including the possibility of confiscating the money made by winners at these sites.
The Department of Trade and Industry put out an announcement this week stating that it was seeking public comments on the new bill. Comments will be received until November 15th of this year.
<!--more-->
The invitation for comments has been published on the South African government website, along with the text of the bill. The majority of the clauses in the bill have been adopted by recommendations made in the National Gambling Policy 2016 policy paper which was published this year. Some of the recommendations include changing the South African National Gambling Board to the National Gambling Regulator, as well as a requirement to monitor the socio-economic patterns of gambling activity.
In terms of additions to the South African gambling landscape, the new law will allow facilities to offer electronic forms of bingo. The condition, however, is that they should not look anything like traditional slot machines.
One worrying factor for online gamblers is that the DTI wants to make changes to the 2004 Gambling Act with reference to winnings. Up until now, and according to the 2004 legislation, if the government wanted to confiscate gambling winnings, it first had to make an application to the High Court to get permission. The new legislation, ie. the National Gambling Amendment Act, will allow the National Gambling Regulator to automatically confiscate "illegal gambling winnings".
Rob Davies, Department of Trade and Industry Minister issued a direct threat to players: "If you go online, we may not be able to stop you when you play the game, but when you win, we get you!" he said.
Under the new law, banks and other financial institutions will not be allowed to process payment transactions if the money is used to transfer funds to or from unauthorized online gambling sites.
Make sure to check out online casinos in South Africa, legal & safe for players.