Born on January 14th, 1994, in Hatfield, Pretoria, Dricus du Plessis is a professional Mixed Martial Art fighter who currently competes in Ultimate Fighting Championship's Middleweight Division. 
Du Plessis began judo training at five years old and took up kickboxing when he was 14. He eventually became a World Association of Kickboxing Association champion in K-1 kickboxing but started the migration to MMA after he realised there wasn't much money in it for kickboxers. 
Du Plessis' professional debut took place in 2013, where he amassed an undefeated record in four fights before he faced off against Gareth McLellan (the then-Extreme Fighting Championship Middleweight Champion and future veteran of the UFC) at EFC Africa 33. He ended up losing in the third round due to a guillotine choke submission hold. 
Dricus du Plessis' Record
Du Plessis made his Welterweight debut at EFC Africa 40 in 2015 when he fought and won against Dino Bagattin. He returned two years later to defeat Mauricio Da Rocha Jr. in a Welterweight fight. He then went on to face Yannick Bahati at EFC Africa 62 for a Middleweight Championship, a fight which he won. 
In 2018, du Plessis faced Konfrontacja Sztuk Walki Welterweight Champion Roberto Soldić at KSW 30 and, in an upset, du Plessis won after dropping his opponent with a left hook. At KSW50, du Plessis fought and won once more, against Brazilian/German Joilton Santos with a Technical Knock Out.
Brendan Lesar triumphed against Garreth McLellan for the EFC Interim Middleweight Championship at EFC Africa 80, but he didn't have much time to enjoy his win. Du Plessis beat him in a first-round guillotine choke submission at EFC Africa 83! 
Du Plessis then made his promotional debut on the 11th of October 2020 against Markus Perez at UFC Fight Night 179, winning the fight with a knockout in the first round.
Du Plessis Matches, Wins, and Losses
| | | |
| --- | --- | --- |
| 21 Matches | 19 Wins | 2 Losses |
| By Knockout | 8 | 1 |
| By Submission | 10 | 1 |
| By Decision | 1 | 0 |
Dricus du Plessis' UFC Rankings
After his triumphant debut, du Plessis was initially supposed to face off against Trevin Giles on the 20th of March 2021 at UFC on ESPN 21. However, this fight was rescheduled for the 10th of July, on UFC 264, of the same year. Du Plessis won by knockout in the second round, a feat which earned him an award for Performance of the Night. 
His next bout was against Brad Tavares on the 2nd of July 2022 at UFC 276, where he once more won the fight - this time by unanimous decision. On the 10th of December 2022, du Plessis faced off against Darren Till at UFC 282, winning via submission in the third round and walking away with the award for Fight of the Night. 
In his March 4th 2023 UFC 285 fight against Derek Brunson, du Plessis won by TKO. His next fight is against Robert Whittaker, former Middleweight Champion of the UFC on the 8th of July, 2023. 
As of March this year, Dricus du Plessis is no. 6 in the UFC Middleweight rankings. This is decided by 20+ media members from MMA networks' votes. They vote every week on the Top 15 fighters in every weight class and these results are used to determine fighters' positions in the ranks.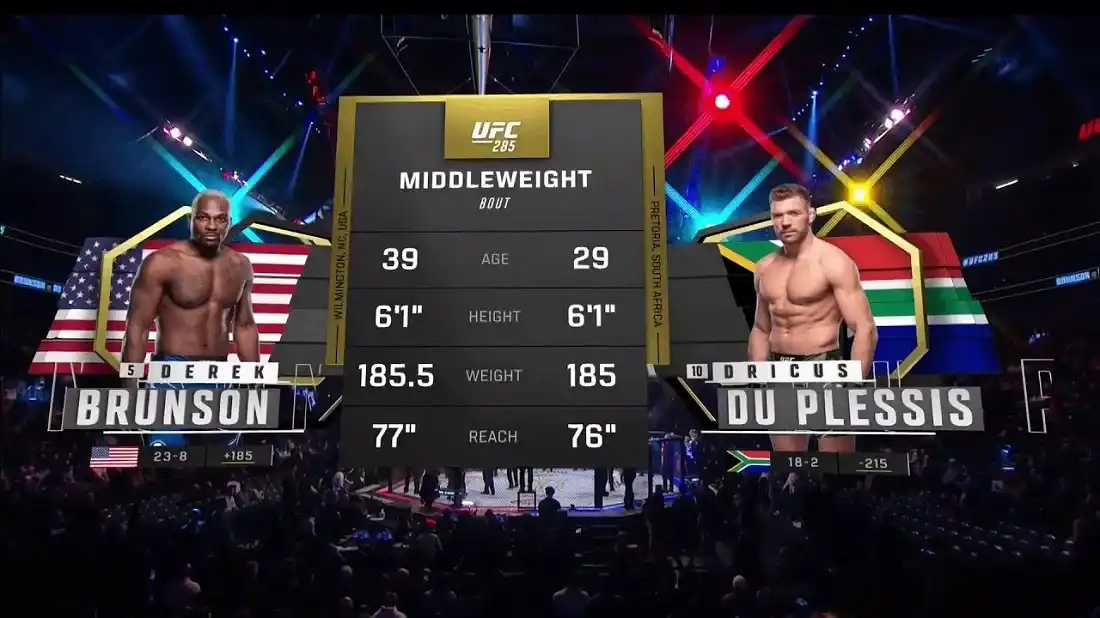 Robert Whittaker vs Dricus du Plessis: Betting Predictions
With a fight history of just two losses in 21 professional MMA bouts, it makes sense to bet on du Plessis every time!
Certain bookmakers' odds have Robert Whittaker as the favourite to win against du Plessis, but our boytjie from SA has an advantage in both significant-strikes-landed-per-minute and striking accuracy. This upcoming bout may be the perfect opportunity for du Plessis to exhibit his relatively extraordinary skills and take advantage of Whittaker beginning to slow down. 
Dricus du Plessis has a record of 19-2-0 and his average fight time is 9:33. 

His Striking SLpM is 6.27 and he operates with an accuracy of 55%, making him a tough contender. 

He absorbs 3.73 SApM on average and his defence rate is at 53%. 

His average takedowns-per-15-minutes is 2.83 and he has a takedown accuracy of 47%. 

His takedown defence is 50% and submission-average-per-15-minutes is 1.3.
With these statistics in mind, du Plessis has numerous strengths, most notably his accuracy when striking and significant strikes-landed-per-minute. He also has great takedown accuracy, and his submission average of 15 minutes is excellent. These are all excellent reasons for putting money on our homegrown hero, making our Robert Whittaker vs Dricus du Plessis prediction a win for du Plessis.
Where can you bet on Dricus du Plessis in South Africa?
The sportsbooks you'll find rated highly and recommended by the experts at PlayCasino all make UFC 290 Betting in South Africa a breeze. Follow these steps, or some variation of them, and you'll be well on your way to collecting your win:
Head to the sportsbook you've chosen to place your bets at.

Register for a new account or sign into the one you've already got.

Navigate to the fight you're looking for and choose your bet type.

Click on the cell displaying your bet and you'll see the wager on your now-current bet slip.

Enter in how much you'd like to wager.

Click Submit or similar and that's it!
For an idea of what to expect, check out these three top sportsbooks:
10bet
10bet was established in 2003 and holds a licence from Mpumalanga Economic Regulator, which means it's legally offering its wagering products and services to South Africans. This sportsbook welcomes bettors from The Rainbow Nation, you can bet in rands with no pesky conversions required. At 10bet you can enjoy incredible pre-fight and live online betting on MMA events, including many UFC 290 Betting South Africa options, and other international sports.
Fafabet
Established in 2022, Fafabet has a Western Cape Gambling and Racing Board licence, so you know you're in good hands. It welcomes South African players, fully supports the ZAR, and it has a range of different markets for you to enjoy. Choose from favourites like MMA, rugby union, boxing, snooker, and darts, or explore the site to see what else is on offer. 
Playa Bets
Playa Bets is a long-established brand, operating since 1990 and holding a licence from the Mpumalanga Economic Regulator. Use your ZAR at this site that supports South African bettors when you wager on golf, MMA, cycling, table tennis, water polo, and more.
Dricus du Plessis FAQs
How tall is Dricus du Plessis?
Du Plessis stands 1.83 metres tall, just over 6 feet.
What is Dricus du Plessis' net worth?
Du Plessis is estimated to have a net worth of R2-to-R10 million. He's not revealed the exact amount to the public.
How many fights has Dricus du Plessis had in the UFC?
Du Plessis has fought 5 UFC matches out of his 21 professional MMA fights.
When is Dricus du Plessis' next fight?
Dricus du Plessis' next fight is UFC 290 which will unfold on July 8, 2023.
How many South Africans are in the UFC?
Du Plessis is currently the only South African in the UFC.
What is Dricus du Plessis nickname?
Dricus' nickname is Stillknocks because of how good he is at knocking his opponents out.
Get in on the action
Sign up now for the latest bonuses, promotions, and new online casinos.
Have You Found What You're Looking for?
Your feedback is paramount!