How the Calaveras Explosivas Game Works
Rather than your traditional reels, rows, and paylines, Calaveras Explosivas uses a system known as "cluster pays". With this type of system, you need to score matching symbols that are in contact with each other, whether it's vertically, horizontally, or diagonally. Basically, they need to touch.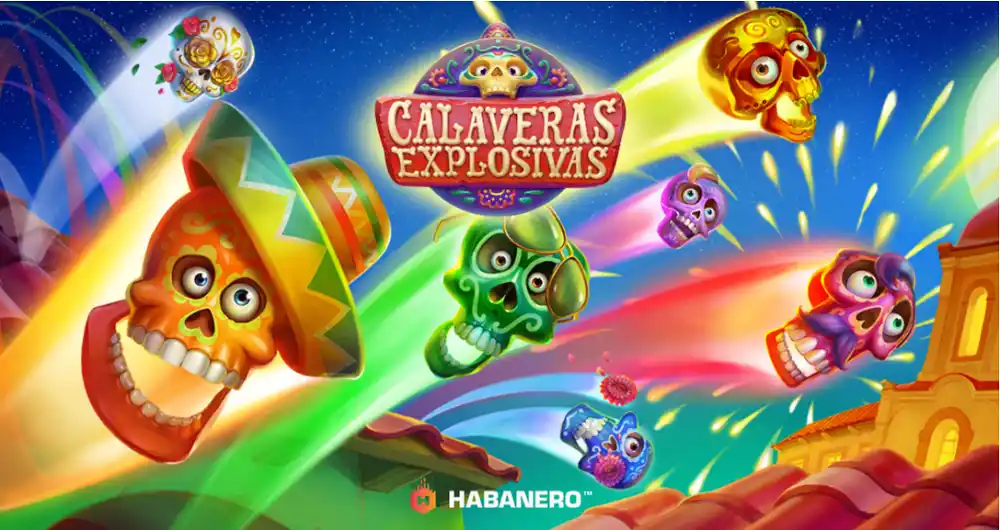 If you're familiar with Candy Crush or games like it, you'll feel right at home. Since you don't need to match symbols across one row from left to right, you theoretically have a better chance of matching symbols. Since there are no reels or rows, the symbols don't spin, instead, they basically drop from the top of the screen. Think of it as a more haphazard version of Tetris in this regard.
To score a win in Calaveras Explosivas at least three of the same colour skulls MUST touch. The most skulls you can match is 20, which will give you a pretty big casino payout. While playing the game there was quite a few times where we landed a bunch of the same colour skulls in a row but they didn't count because they weren't touching. One row will fall and if none of the skulls match, the row will be cleared. However, if you do match skulls, all of the skulls minus those that match will remain on the screen, increasing the chances of scoring a match on the next drop.
Pros
Different play style
Fun graphics
Great soundtrack
Simple and intuitive gameplay
Has cascade, multipliers, and scatters
Cons
No free spins
It's not your typical slot
How to Play Calaveras Explosivas
So, if you like the sound of Calaveras Explosivas and are wondering how you play this unique and innovative slot, we've got you covered. Just follow our step-by-step guide and you'll be tumbling these colourful skulls in minutes.
Go to the HollywoodBets website, or any other South African online casino offering this fun casino game.
Click the login button in the top right-hand corner of the screen
Once you've logged in, make sure that you have enough money in your account
Use the search bar and select Calaveras Explosivas
Once the game has loaded, a card with the values for matching symbols will pop up. Take note of which symbols are high value, low value, and which are the special symbols
Before you start playing, we suggest that you click on the "i" icon so that you can learn about the different features of the game and how they work
Click the gear icon if you want to adjust the sound setting or use the quick spin feature
Set your bet. First, you'll need to set a bet level bet one and ten. Now you'll set your coin level which can be anywhere from 0.4 to 2
If you're feeling brave and you've got a bank account to match, you can choose to bet the maximum amount each time by clicking on the icon with the coin and the arrow
Once you've set your bet and are ready to start playing Calaveras Explosivas hit the green play button
In the bottom left of the game screen you'll find the fullscreen and volume icons
Calaveras Explosivas Demo
Want to give Calaveras Explosivas slot a go before playing for real money? Play for free with the Calaveras Explosivas demo version below.
Calaveras Explosivas Tips and Strategy
It's important to understand that games like Calaveras Explosivas are what's known as games of chance. This means that there is no surefire way to win. In the end, you hit play and hope for the best. However, there are a few things that you can do to give yourself the best chance of success when playing Calaveras Explosivas.
Do your research
Yes, these types of games are meant to be fun but we strongly suggest that you find out as much about the game as you can before you play. Reading this review is a great place to start! We also recommend clicking the info icon in the game to learn all about the features. You should also know that Calaveras Explosivas is regarded as being a low-volatility slot. This means that the game pays out regularly but it's mostly for smaller amounts. The RTP for Calaveras Explosivas is a pretty good 97%. This means that on average, for every R100 you spend, you should see a return of R97.
Play the Calaveras Explosivas demo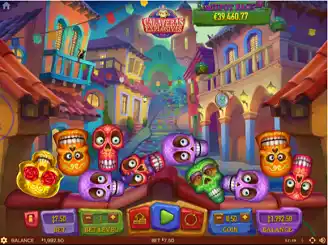 This will help you understand the game and learn what to expect and how the game works without risking any of your money. Nothing is worse than losing money on a game because you don't know what to do!
Set your limits
Let's say for example that we start the game with a R100 in our account. If we find myself up around R500 we'll decide to cash out if we drop down to R200. That way I leave the game in a far better situation than I started. You might have different limits and you always play in the way that suits you best.
Alternatively, you can go into the game with a big balance. This means you can increase your bet size thereby increasing the amount you stand to win. However, this is not a practical game plan for every player. You should only ever spend as much money as you're okay with losing. Never bet the last of your money on a game of chance. Life isn't a Hollywood movie and 999 times out of 1,000, you will come out with less than you started.
Calaveras Explosivas Symbols
High-Value Symbols in Calaveras Explosivas
| | | | | | | |
| --- | --- | --- | --- | --- | --- | --- |
| Symbol | 20 matches | 19 matches | 18 matches | 5 matches | 4 matches | 3 matches |
| Gold Masks | x3333 | x1666 | x1000 | x1.333 | x0.666 | x0.466 |
| White Masks | x1000 | x500 | x250 | x3 | x2 | x1> |
| Blue Masks | x3333 | x1666 | x1000 | x1.333 | x0.666 | x0.466 |
| Green Masks | x1000 | x666.6 | x500 | x0.666 | x0.466 | x0.333 |
Gold Masks
The Gold Masks are the Wild of the game and substitute all symbols besides the white skull
Gold Masks may be part of multiple combos
Gold Masks pay on top of other combos they're part of
White Masks
White Masks are the scatter symbols in the game
White Skulls pay anywhere
White Skulls' pays are added to other pays
White Skulls only pay once and no other combination can be awarded
Low-Value Symbols in Calaveras Explosivas
| | | | | | | |
| --- | --- | --- | --- | --- | --- | --- |
| Symbol | 20 matches | 19 matches | 18 matches | 5 matches | 4 matches | 3 matches |
| Purple Masks | x666 | x500 | x333 | x0.4 | x0.33 | x0.2 |
| Orange Masks | x333 | x200 | x133 | x0.33 | x0.2 | x0.13 |
| Red Masks | x133 | x100 | x80 | x0.26 | x0.13 | x0.06 |
Calaveras Explosivas Bonus Features
Wilds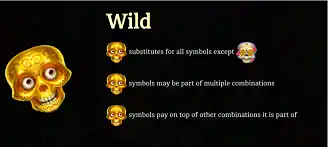 Be sure to keep an eye out for the Gold Skulls when you're playing the Calaveras Explosivas slot. It acts as the Wild and it'll always substitute for any other symbols to create a cluster and earn you a win. The only symbol it won't replace is the White Skull which is the Scatter symbol in Calaveras Explosivas.
Scatters
The White Skull is the Scatter symbol in Calaveras Explosivas and will payout anytime you land three or more of them. Any wins you score thanks to Scatters are multiplied by your bet total rather than your line bet.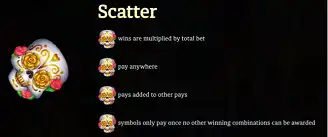 Cascades and Multipliers
Any time you score a win in Calaveras Explosivas by having three or more skulls of the colour touching, you'll instantly receive a Cascade respin. The winning symbols will disappear but the rest of the skulls will remain on the screen while the next round of skulls falls. This significantly improves your chances of scoring another win. However, before the next round of skulls falls, you will receive a multiplier. The multiplier will be applied if you score a win in the next round.
Every time you score a win playing Calaveras Explosivas, you'll be awarded one of the following multipliers:
Calaveras Explosivas Payout and Volatility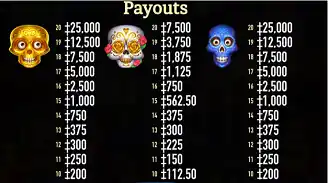 Calaveras Explosivas is a low-volatility slot with an RTP of 97%. The average RTP for slots is usually around 95% so Calaveras Explosivas has a pretty healthy RTP. The maximum payout depends on where you happen to be playing Calaveras Explosivas but it should be around x500,000 your stake.
Calaveras Explosivas Graphics
This is one the best aspects of Calaveras Explosivas. We are in love with the way the game looks. It's bright, fun, and unique. Usually, skulls are seen as creepy by the designers over at Habanero have somehow found a way of making them cute and fun.
We also love the way that each skull has its own look and personality. It'd have been so easy for them to just design one skull and just change the colour. The background that depicts a beautiful and colourful Mexican village is great. We also have to mention how great the Mariachi-inspired soundtrack is. It's fun and light without ever being annoying and repetitive. Calaveras Explosivas has some of the best graphics and music we've come across in a slot in some time.
Calaveras Explosivas on Mobile
Thanks to the HTML5 and JS technology that's used to create Calaveras Explosivas, the game can be played on just about any device. You don't need to download any software or app, saving precious space on devices. All you need to play the Calaveras Explosivas slot is an internet browser and a stable internet connection.
Should You Play Calaveras Explosivas?
Unless you're a strict traditionalist who believes that all slots reels, rows, and symbols must match from left to right, you'll love Calaveras Explosivas. And don't worry about it being different. If you've played Candy Crush or other similar games, you'll be right at home playing Calaveras Explosivas. And if you've never played any of those games, fear not – after a few spins you'll know exactly how the game works.
Best Casinos to Play Calaveras Explosivas for Real Money
Other Online Slots You May Be Interested In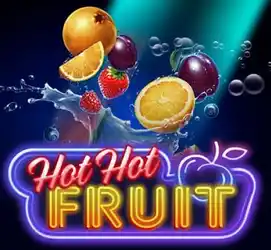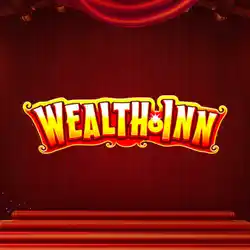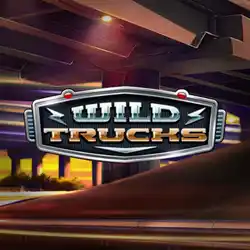 FAQ
How is Calaveras Explosivas different from your typical slot?
In most slots, you'll have reels and rows that spin. To score a win you'll need to match a certain number of symbols from left to right. In Calaveras Explosivas the symbols drop from the top of the screen. You score a win if three or more symbols are in contact with one another. As long as they're touching and the same colour, they count! It's that simple.
What is the best time to play Calaveras Explosivas?
The honest answer is that there's no best or worst time to play Calaveras Explosivas. You might hear some people claim that you should always play Calaveras Explosivas at a certain time because another player won big at that particular time. But all slots, including Calaveras Explosivas, use a Random Number Generator to ensure fairness. That being said, Calaveras Explosivas is part of HollywoodBet's Spina Zonke collection of over 400 slots. If you play selected titles in the collection at HollywoodBets between 20:30 and 22:30 on Wednesdays, Fridays, and Saturdays you'll be entered into the HollywoodBets Spina Zonke Jackpot Race and stand a chance to a huge cash prize!
Get in on the action
Sign up now for the latest bonuses, promotions, and new online casinos.
Have You Found What You're Looking for?
Your feedback is paramount!