What is Capitec?
Capitec Bank Holdings Limited is a public company trading on the JSE, offering banking/financial services to South Africans. Jannie Mouton, Michiel Le Roux, and Riaan Stassen founded Capitec in March 2001, and it's headquartered in Stellenbosch, in the Western Cape. Today, Capitec offers these services:

Commercial banking 

Credit cards

Debit cards

Investments

Loans

Investment banking

Savings
Capitec's financing services are very popular with South African players, and the organisation holds almost R70 billion in assets. 
How does Capitec work?
Capitec is a bank like FNB or ABSA. You need to open an account to transact at online casinos or any other online or land-based store. You can use a Capitec credit or debit card online, or you can do an instant EFT if the site allows it. Capitec also has single-use prepaid vouchers for online purchases.
To open a Capitec account, visit a Capitec branch with your ID. Or you can open a Capitec account online.
If you opt for the online option, you need to download the Capitec app, take a few selfies, enter your SA ID number, and fill in your details. The Capitec app uses facial recognition to create a biometric signature, ensuring only you have access to your account. Getting your account set up and ready for use only takes a few minutes.
Best South African Casinos With Capitec Pay
If you're on the hunt for a fully licensed and regulated online casino where you can use Capitec, we've got the best options right here:
Springbok Casino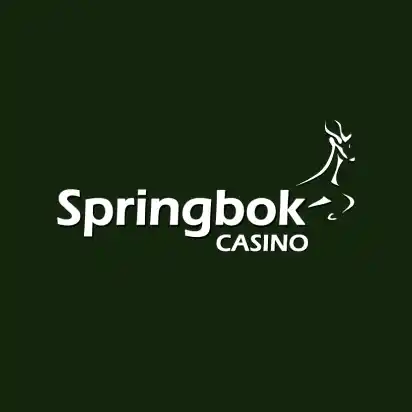 R500 Free No Deposit Bonus
+ R11, 500 Welcome Bonus
Play Now
Springbok Casino features over 200 games powered by Realtime Gaming available in Download and Instant-Play formats. The mobile casino is cutting edge, and Springbok Casino has 24/7 customer support via live chat, toll-free phone, and email. All your Capitec transactions have an extra layer of protection as this licensed casino uses SSL encryption.
Punt Casino
Play Now
Established in 2021 and boasting a range of Realtime Gaming games for desktop and mobile, Punt Casino is always a top choice. Live chat support is available for registered users, along with an email contact. SSL encryption protects all transactions, and the casino is licensed too.
How to make a deposit with Capitec
There are multiple ways you can use your Capitec account as a banking method at a real money online casino.
EFT
With an EFT deposit, your online casino account is immediately credited. 
Head to the Cashier/Banking section of the casino and select Capitec. Enter your account number and password on a new page to log into your Capitec account. Select your deposit amount and confirm it using the OTP or the Capitec app on your mobile. Your casino account will now reflect your deposit.
Capitec Pay
Capitec Pay is a quick and safe way to make online payments without entering your card or bank account details. 
Download the Capitec banking app and enter your profile credentials. 

Go to the online casino you want to make a deposit at and choose Capitec Pay. 

Enter your cell phone number linked to your Capitec account.

Choose how much you want to deposit. 

Approve the push notification, and your money will be reflected in your casino account.
Blu and OTT Vouchers
Blu Vouchers and OTT Vouchers are one of our favourite ways to deposit money into your casino account. You don't enter banking account details, just the PIN number on the voucher token. 
Prepaid vouchers only cost R1.50 per transaction. This makes them a cheap payment option, and they're available for purchase via your phone, too.
Capitec App Download
Access the App Store
For Android Users: Open the Google Play Store on your device.
For iOS Users: Navigate to the Apple App Store on your iPhone or iPad.
In the search bar, type "Capitec" and hit search.

Select the App
Look for the official Capitec app which has the  Capitec logo and official name. Make sure to avoid any unofficial or counterfeit apps.

Download & Install
Click on "Install" (for Android) or "Get" (for iOS). The app will start downloading and will automatically install once the download is complete.

Open & Set Up
After installation, open the app from your device's app drawer or home screen.
If you're a first-time user, you might need to go through an initial setup process. This may involve linking your Capitec bank account, setting up security features, and familiarizing yourself with the app's features.

Security
As with all banking apps, ensure you set a strong password or PIN. Some devices also support biometric access like fingerprint or facial recognition – take advantage of these for added security.

Regular Updates
To keep your banking experience smooth and secure, regularly check for app updates. The app store will notify you when an update is available, or you can set your device to update apps automatically.

Usage
Once set up, you can begin using the Capitec app for various banking activities, from checking account balances to buying betting vouchers, transferring money, and more.
Capitec Online Banking Guide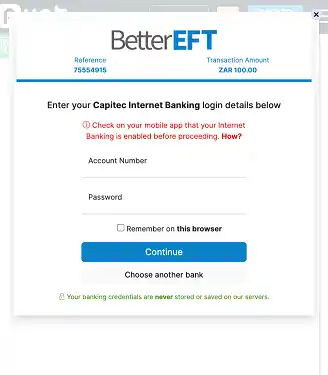 Before accessing Capitec's online banking, ensure you're registered for this service with Capitec. You can do this by visiting a Capitec branch or calling their customer service.
Accessing the Internet Banking Portal
Navigate to the Capitec Bank official website using a secure and reliable internet connection.
Login
On the homepage, you'll find the "Internet Banking" or similar login button. Click on it.
Enter your username and password provided during the registration process. If it's your first time, you might be prompted to set up your own password.
Dashboard Overview
Upon logging in, you'll be taken to your dashboard. This provides an overview of all your accounts, balances, and recent transactions.
Transacting Online
From the dashboard, you can initiate various transactions like funds transfer, bill payments, or purchasing airtime/data.
If you want to buy a Hollywood voucher or any other service, navigate to the respective option and follow the prompts.
Password & Security
Ensure you're using a strong, unique password for online banking.
Always log out after completing your session.
Avoid using public Wi-Fi when accessing your online banking, as these networks can be insecure.
Profile and Settings
You can adjust settings like notification preferences, transaction limits, or change your password. Always ensure your contact details are up to date.
Help and Support
Most online banking platforms have a "Help" or "FAQ" section where you can find answers to common questions. If you're facing issues, look for the customer service or support option for direct assistance.
Logging Out
Once you've completed your banking tasks, ensure you log out from the portal. This is especially crucial if you're accessing the platform from a shared or public computer.
Pros
Low Monthly Fees
User-Friendly and Easily Accessible
Efficient Technonolgy
Cons
Poor Customer Service
High Interest Rates
Inefficient Fraud Prevention
Why Use Capitec?
Choice of payment options
All you need is a bank account with Capitec. Afterwards, you can fund your online casino account using your credit card, debit card, Capitec Pay, or prepaid vouchers. 
Accepted at most South African online casinos
Capitec is almost universally accepted at online casinos that welcome South African players. Even if an EFT option isn't available, you can use your credit or debit card. 
Safe and cost-effective
Capitec is well-known for its low banking fees. For EFT casino deposits and withdrawals, the fees are the same as any other transaction, and the same applies to card charges. The OTP or 2-factor authentication on the app makes it extra safe and secure. 
Money is instantly available
Capitec deposits clear instantly in your online casino account. Withdrawals are quick, depending on the casino's processing time and not the SA bank. Visit our list of the Fastest Paying Casinos to receive instant cashouts.
A possible downside for some South Africans is that you need to enter your details if you're using your credit or debit card or EFT. Not everyone likes doing this. If this concerns you, use a Capitec voucher instead.
How to Buy Hollywoodbets Voucher With Capitec
To buy a Hollywoodbets voucher with Capitec, you can follow these steps.
Using the Capitec App
Open your Capitec Bank App.

Tap on "Transact".

Tap on "Buy vouchers".

Choose Hollywoodbets Voucher. You can also buy

Select the 'From' account (either main savings or flexible savings plan).

Enter the desired voucher amount.

Enter the recipient's cellphone number.

(Optional) Enter the recipient's name.

Tap "Buy now".
Using Capitec USSD Code
Dial 1203279#.

Choose Buy Vouchers

Reply 1 for Capitec Flexi Voucher or reply 2 for Retail Vouchers

Reply 1 for Buy Voucher

Choose or enter the voucher amount

Enter the recipient's cellphone number

Select 'From' account

Enter your Mobile Banking PIN to confirm
How to Buy OTT Voucher & Blu Vouchers Using Capitec
OTT Voucher & Blu Vouchers allow for secure online transactions without needing to directly use your bank card. They are straightforward to use. Once purchased, you  simply enter the voucher code on the online casino's deposit page.
Follow these steps to buy OTT and Blu Vouchers via Capitec.
Through the Capitec App
Open the Capitec App on your phone.

Navigate to "Transact".

Select "Buy vouchers".

Opt for the voucher you want to buy – OTT or BluVoucher.

Pick your funding source.

Input the voucher's value.

Provide the recipient's mobile number.

Optionally, add the recipient's name.

Confirm by selecting "Buy now".
Via Capitec USSD
Dial 1203279#.

Navigate to "Buy".

Opt for "Vouchers".

Consent to the terms presented.

Specify the type of voucher you're buying.

Indicate the amount for the voucher.

Offer the recipient's mobile number.

Choose the funding source.

Input your banking PIN to finalize the purchase.
Deposit at Betway With Capitec App
Depositing money into your Betway account using a Capitec card is now a breeze, as Betway has integrated Capitec as one of its payment options for South African players.
Follow these steps to use Capitec for deposits
Begin by logging in or registering on the Betway platform.

Access the site's menu, and choose the "Add Funds" option.

Pick "Capitec via Ozow" from the available deposit methods.

Decide the deposit amount and hit "Continue".

Input your Capitec login details (account number or username) and its security credentials (password or remote PIN).

Authenticate the transaction as required by your bank.

After the successful transaction, you're all set to place your bets!

If you strike it lucky and win, withdrawal options include EFT (where Capitec is included), digital wallets, or vouchers.
Capitec Contact Details
Use Capitec At Online Casinos
More EFT Payment Options at SA's Online Casinos
Capitec FAQs
Can I reverse a Capitec transaction?
Yes, if you think you've made an error and haven't yet bet the money on a casino game, you can request a reversal. Contact Capitec's customer care agents to start the process.
Can I use Capitec for withdrawals?
Yes, if the casino allows bank transfers/EFTs for withdrawals, you can use your Capitec account details.
Why should I use Capitec Pay?
It's an easy, safe, and fast method to deposit and withdraw from your online casino account.
Which South African casinos accept Capitec?
We recommend Punt Casino and Springbok Casino for SA players.
Get in on the action
Sign up now for the latest bonuses, promotions, and new online casinos.
Have You Found What You're Looking for?
Your feedback is paramount!