Debit cards are an excellent banking method when using South African Online casinos. There are various debit cards, with the most popular being Visa Electron and Mastercard Maestro. Debit cards are similar to credit cards and are generally attached to these.
The major difference is where the money comes from. While a credit card gives a line of credit that is paid off at a particular time, a debit card is connected to your cheque or savings account and there must be sufficient money in that account to fund the debit card.
As the name says, Visa Electron is managed by Visa and is available to South African players. It was introduced by Visa in 1985. The important part of the Electron card is that there must be funds available on the card in order to use it. This means that there is no overdrawing allowed on the card.
MasterCard introduced their Maestro card in 1992. The card requires a 4-6 digit PIN in order to be used. This makes it a much safer option if you are watching your cash, as you will only be able to spend what is in your account.
🔔 Advertising Disclosure: playcasino.co.za contains affiliate links to partner sites. By clicking these links and making a deposit PlayCasino may earn a commission. This does not impact bonuses or result in extra charges for players. Our reviews and recommendations remain impartial.
How to Open an Account
Opening a debit card account is extremely easy, and you may even have one already. Once you have a bank account, specifically a cheque or savings account, you can attach a debit card to that account.
To use your debit card, you need to have a Personal Identification Number or PIN. The PIN makes transactions with a debit card an even more secure way to fund your online casino account.
Deposits and withdrawals
Most South African casinos accept major debit cards such as Maestro and Electron. It is very easy to both deposit funds and withdraw from your South African online casino account using a debit card. On occasion, there may be a minimum amount required to deposit in order to use your debit card. Just fill in the card information on the banking page of the online casino.
To withdraw money is as easy as filling in the details of your card and how much you would like to withdraw. Debit cards are an excellent option for funding your online casino account.
How to make a deposit via debit cards?
1. To make a deposit with your debit card, go to the Cashier.

2. Choose Credit or Debit Cards as a preferred banking method.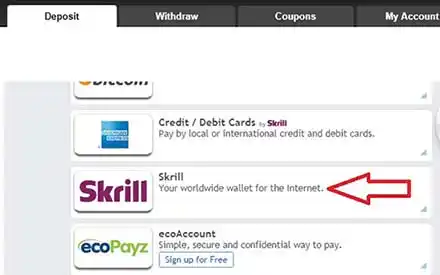 3. Provide your username and password and press the Login button.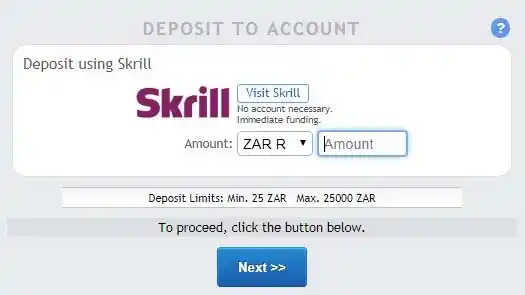 4. Enter your card number, expiration date, card type, security code and the amount you want to deposit in ZAR. Press the Deposit to Account button to transfer funds to your casino account.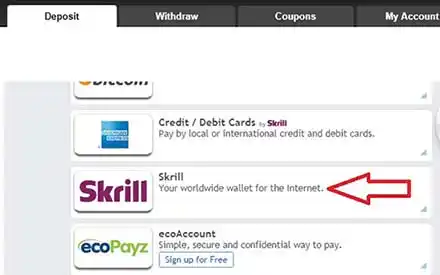 Frequently Asked Questions (FAQs)
Can I make deposits and withdrawals in ZAR via debit cards?
At South African casinos that support debit cards as a means of payment, you can make deposits and withdrawals in your national currency.
How to withdraw via debit cards?
If the online casino of your choice accepts debit cards as a withdrawal method, go to the Cashier's to request a cashout. Choose Debit or Credit cards as a preferred banking method and follow the steps just like when you have made a deposit to your account.
Is a debit card a safe banking method?
Debit cards are a safe banking method you can use without worries about your financial or personal data.
Will I be charged any additional fees when making transactions via debit cards?
Typically, South African casinos do not charge additional fees on transactions made via debit cards.
How long does it take to process deposits and withdrawals?
Deposits via debit cards are usually processed as soon as your payment is approved. When it comes to withdrawals, they may take up to 3 days plus a pending period, which may last up to 72 hours.
Other Popular Casino Payment Methods:
Get in on the action
Sign up now for the latest bonuses, promotions, and new online casinos.
Have You Found What You're Looking for?
Your feedback is paramount!