Casino Launched:
2010-03-29
Lotto Agent Coupons, Promotions and Discount Codes
Apart from the welcome bonus, where players get a 10% discount on the first lottery ticket they purchase through Lotto Agent, there are plenty of other promotions and bonuses. Here are some of the bonuses which are currently running:-
Other Deals and Offers
Buy One Get One: If it is the first time you buy a lottery ticket at Lotto Agent, you are in for a pleasant surprise. You will receive a gift in your account when you purchase your first ticket through Lotto Agent. The gift is bonus money for you to buy another ticket for free. Alternatively, you can buy a more expensive ticket and a good chunk of the price will be covered by the bonus money and you can pitch in for the rest.
Invite a friend and play for free: This referral bonus is available at Lotto Agent and players can make some serious gains by using this to its full potential. You simply need to refer another person, be it a friend, family member, etc.. When the person you refer purchases their first ticket using the Lotto Agent Platform, you will receive $5 as a bonus.
Promo Codes for all Occasions: The calendar year includes occasions, holidays and festivals. At Lotto Agent, players can look forward to promo codes for most such occasions and the promo codes can fetch a discount of up to 50% off the ticket price. If you are a regular player, you get exclusive VIP promo codes, which attract even bigger discounts. Sometimes, there needn't even be an occasion. Lotto Agent sends you promo codes just for the sake of it. This is always a welcome surprise.
Write a review and get a reward: Lotto Agent loves to improve and the only way they can do so is if they know how they can improve. This is why your feedback is really important to them. In fact, they will reward you for rating them and leaving a review with your honest opinion of the platform. There are some terms and conditions, and we recommend checking with customer service about exactly how and where to dispatch the feedback to receive your reward.
Up to 15% take–off for an increased number of lines: You can choose how many lines you want selected on your ticket – it could be anywhere in the range of 1 to 25 lines. The range may vary depending on which specific lottery you participate in. Basically, you can think of every line as an opportunity to win. The more lines you pick, the more your chances of winning. Furthermore, Lotto Agent will reward you with discounts when you pick multiple lines. Sometimes, the discount percentage can go as high as 15%.
10th ticket free for using subscription: If you are an ardent lottery player who plays often and are chasing that elusive winning lottery ticket, then you will be well served by the subscription feature at Lotto Agent. When you use the subscription feature, you can pick certain lotteries that you want to enter regularly and this happens automatically. Your balance is withdrawn automatically from your account and the tickets are sent to you. The best part is that every tenth ticket through the subscription is completely free of cost.
Participate in the contest to win prizes: Lotto Agent wants to do more than buy your lottery ticket through their online platform. They want their members to keep coming back for more and are always proactively looking for ways to include interactive contests and tournaments. We recommend that you subscribe to the newsletter to stay in the know about the next upcoming contest. These contests have some beneficial perks and prizes for participants and winners.
| General Info | Lottery Operator Details |
| --- | --- |
| Operated by: Agento Ltd. | Number of lotteries:37 |
| Years Established: 10 years | Payment options |
| Licence: Government of Curacao | Available: Visa, MasterCard, Maestro, Bank Transfer |
| Customer support: Phone, Email, Live Chat | Languages: English, Spanish, Portuguese, Russian, French |
| Email: Use 'Send a Message' option | Mobile app: For Android only |
| Support Phone Number: +44 132 5525 688 | Ticket Scan: Yes |
| Accepted Currencies: UD Dollars, Euros, Indian Rupees, South African Rands, AUD, NZD, CAD, etc. | Ticket Prices: Price of ticket + fee for agent to buy ticket (no commission on any winnings) |
How to Register an Account
To start using the services of Lotto Agent and purchase your lottery tickets through this portal for lotteries all around the world, you first need to sign up. The registration process is easy and only takes a minute or two. If you need instructions on how you can sign up, below are detailed steps outlining the registration process:-
How to Get Started Playing the Lottery at Lotto Agent
Visit the Lotto Agent website
Click on the orange 'Register' tab at the top right-hand corner of the screen
The registration form will appear in a pop-up window. You need to complete this form with the required details
Choose your gender, enter your first name and last name, date of birth, email address, and password and then click on the blue 'Register' button at the end of the form
Please note – by registering, you confirm that you accept the terms and conditions of the website as well as its privacy policy
That's it. You have now registered and you make deposits and start buying lottery tickets through Lotto Agent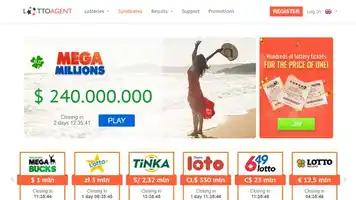 South African Lotteries at Lotto Agent
South African Powerball:
The South African Powerball is essentially South Africa's rendition of Powerball USA lottery. You can select 5 main numbers from 1 – 50 and an additional Powerball number between 1 and 20. It happens twice a week. Lottery value is R50 million
South African Lotto:
One of the biggest lotteries in Africa where you pick six numbers out of 52. Worth R19 million, this lottery was started back in 2000 and has been a favourite in South Africa ever since. Players who match their five numbers will get to pick a sixth bonus number. The draw happens twice a week, on Wednesdays and Saturdays.
International Lotteries are available at Lotto Agent
Apart from the two South African lotteries mentioned above, there are tons of other lotteries from around the world in which South African players can participate. Some of the popular ones are:
Mega Millions: This is an American lottery where the draw happens twice weekly in Atlanta. It started in 1996 and still holds the record for the greatest jackpot of all international lotteries.
Super Enalotto: As long as you are over 18, you can take part in the Super Enalotto from anywhere in the world using the Lotto Agent portal. This is an Italian lottery with a 15-year-old heritage. The starting jackpot is €1,300,000 and the record jackpot is €178,800,000. Draws happen thrice a week in Rome.
Euro Millions: The draw takes place twice a week in Paris. The jackpot has the potential to reach €250,000,000. 50 regular balls and 12 special balls are drawn in this lottery. South African players over 18 can play Euro Millions via Lotto Agent.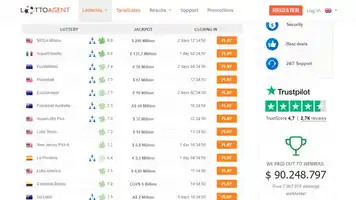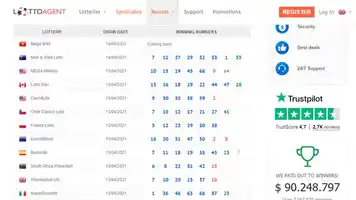 User Interface
Lotto Agent website has a clean look and is practical and user-friendly. Even if you've never played at an online lottery portal before, you will get to know how it works simply by glancing through the various options. There is a header menu at the top with the main options like lotteries, syndicates, results, support and promotions. Your account settings and options can be accessed from the top right.
The website design is clean. It is not a very colourful website. The use of a white background makes the text legible and gives the portal a classy and high-quality aesthetic.
Pros And Cons
Pros
South African Rands supported
37 lotteries that you can play
Average fees
No commission charged on any winnings
Website available in multiple languages
Mobile friendly platform
Scanned ticket in your name is sent to you
High trust score on Trust Pilot
Major South African lotteries available
Major lotteries from around the world available
Cons
Cryptocurrency payments not supported
On average you are paying 145% of what the ticket cost would be if you buy it yourself in person
Services not available in several countries due to legal challenges
No mobile app for iOS devices
Playing on your mobile
There's good news for Android smartphone and tablet users. Lotto Agent is available as a mobile app. The app design is fine-tuned for smartphone operations with just one-finger navigation. The app has plenty of handy features. You can check results in seconds, buy lottery tickets from around the world in just a few taps, get important notifications and even receive scanned copies of your ticket before the draw. The app can be downloaded for free.
Mobile App
To download the app, visit this URL and click on the download button
At this time, there is no app for iOS users. However, you can still play from iPhones and iPads directly through the Lotto Agent website. The website is mobile-friendly.
Depositing and Withdrawing at Lotto Agent
| Payment Method | Deposit | Withdrawal | Withdrawal Speed |
| --- | --- | --- | --- |
| Visa | Yes | Yes | 1-3 days |
| Mastercard | Yes | Yes | 1-3 days |
| Maestro | Yes | Yes | 1-3 days |
| Bank Transfer | No | Yes | Varies |
How to Make a Deposit:
Login to your account
Click on the "Account" drop-down
Click on 'Add Funds'
Enter an amount between $15 and $300
Click on 'Add'
Choose your payment method
Complete the transaction
How to Make a Withdrawal
Login to your account
Click on the "Account" drop-down
Click on 'Withdrawals'
Ensure your email address has been verified
Select your withdrawal method from the drop-down
Enter payment information accordingly
Enter withdrawal amount (minimum $10 and maximum $100)
Request is placed
Once the finance department approves the request, your funds will be processed
About Lotto Agent
Lotto Agent was launched in 2010 due to a vision of developing a first-class service where members could purchase lottery tickets for lotteries from all over the world easily and conveniently. After a few years of detailed preparation, the start-up flagged off in 2012.
Lotto Agent started by partnering with the biggest and most popular American and European lotteries but has now expanded to include lotteries worldwide. There are more than 37 lotteries that members can participate in.
Agento Ltd operates Lotto Agent. A company registered in Belize. The Government of Curacao licenses Lotto Agent.
Lotto Agent Trust Score
Lotto Agent has a staggering trust score of 4.7 on Trust Pilot and this has been aggregated over a massive 26,000 reviews so far. Lotto Agent is a licensed online lottery platform with secure payment methods and 256–bit SSL encryption. You are in safe hands when you play at Lotto Agent.
Jackpot Winners at Lotto Agent
Lotto Agent has a payout counter on their website showing how much total winnings this platform has paid out to its members thus far. Currently, that number stands at $89,407,373.
The website has no information about individual players who have won record jackpots. However, recent winners are displayed in an 'Our Winners' list. The player's user name, amount won, country and the lottery played are displayed. Players are regularly winning amounts between $500 and $2000 through prizes.
Customer Support & Contact Details
Lotto Agent has an FAQ section covering most general questions players usually have. We suggest you review the FAQs if you need information about a particular topic. However, if you still need to contact customer support, you can do so through the channels below.
Live Chat – available by clicking on the live chat bubble icon at the bottom right
Send a message – fill out the quick contact form and hit send
Phone Support – +44 132 5525 688
Verdict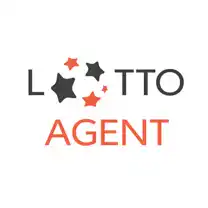 Lotto Agent is a trustworthy online lottery platform where players based in South African are welcome. The fact that South African Rands are supported makes it even more convenient. Lotto Agent covers 35+ lotteries from around the world, including two of South Africa's own. It has great promotions throughout the year. With a trust score of 4.7 on the trust pilot, you can play lotteries regularly at Lotto Agent with complete peace of mind.
FAQs
Is Lottery legal in South Africa?
Yes, lotteries are legal and regulated in South Africa. There is even a national lottery in South Africa and its draw is televised on cable TV.
What is the most popular Lottery to play?
The most popular lotteries in South Africa are South African Powerball and South Africa Lotto. The most popular lottery in the world is probably Major Millions, a US lottery.
Yes, Lotto Agent is 100% safe. It is licensed, regulated and has a nearly flawless trust score on Trust Pilot.
How does Online Lottery work?
You can pick numbers and buy your lottery ticket online, and an agent will actually buy the same ticket for you in person. The ticket is purchased in your name and a scanned copy is sent to you before the draw. The results can be viewed on the platform as well.
Do I need an Internet connection to play on the Mobile app?
Yes. In order to communicate with the Lotto Agent servers, your mobile needs an active internet connection.
Is Lotto Agent mobile-friendly?
Yes. Lotto Agent website is mobile friendly. Android users can even download the Lotto Agent Android app.
Can I trust Is Lotto Agent?
Yes. Lotto Agent has been around for nearly a decade and has overwhelmingly positive reviews and a superb trust pilot trust score. The site is licensed and registered.
How do I sign up at Lotto Agent?
You need to fill in a registration form with your details, which only takes a minute or two.
How do I cash-out money when I win?
You can cash-out your winnings by using the 'withdrawal' option under your account options. Choose your payment method, enter the withdrawal amount and place your withdrawal request.
How can I get in touch with customer support?
You can get in touch with customer support through live chat, send a message option or phone (+44 132 5525 688)
Are deposits and withdrawals safe?
Yes, deposits and withdrawals are secured through 256 – bit SSL encryption.
Have You Found What You're Looking for?
Your feedback is paramount!