Please note that Peach Payments is a payment gateway rather than a specific payment method. As such, this review may differ from our reviews of payment methods like Blu Voucher, OTT, and others.
Peach Payments was launched in 2012 after Andreas Demleitner met Rahul Jain a few years before. At the time, they were both immigrants facing unsure futures. However, they both saw something in each other and remained in contact. Two years later, they got together to revolutionise online payments in South Africa and the rest of the continent.
Peach Payments enjoyed accelerated growth and development after joining Google Umbono, an incubator that helps local tech startups with global potential create sustainable success.
Top Online Casinos Accepting Peach Payments
🔔 Advertising Disclosure: playcasino.co.za contains affiliate links to partner sites. By clicking these links and making a deposit PlayCasino may earn a commission. This does not impact bonuses or result in extra charges for players. Our reviews and recommendations remain impartial.
What Is Peach Payments?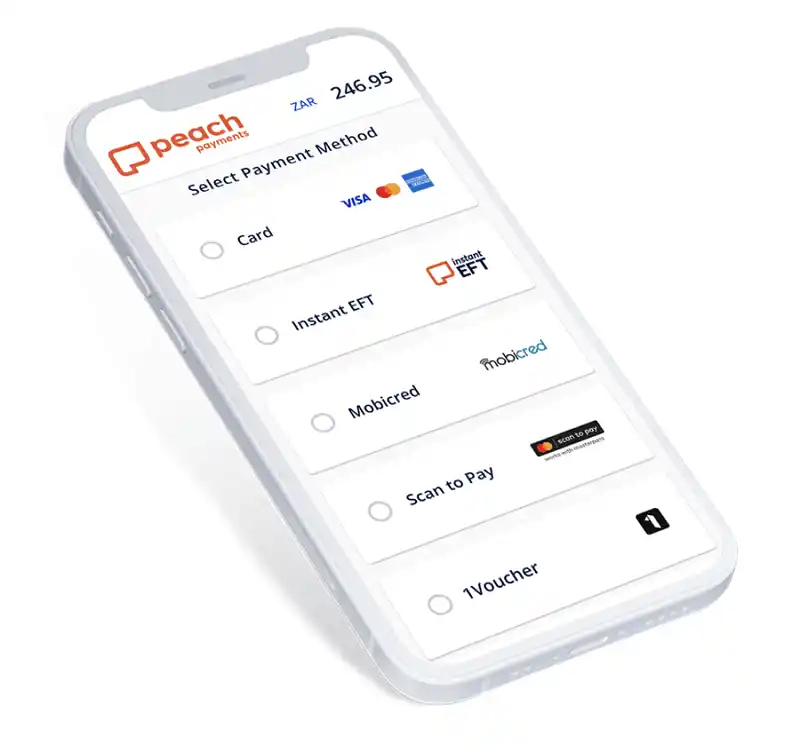 Peach Payments is a locally based online payment platform that allows users to pay for online purchases using several different methods, including:
Bank transfers
Credit cards
Debit cards
Electronic wallets
Mobile service provider billing
Mobile wallets
While Peach Payments do offer a range of different payment methods, local online casinos only offer options for credit card and instant EFT payments. They currently work with businesses in South Africa, Kenya and Mauritius, and have plans to expand their operations in other African countries in the near future.
Peach Payments accept over 190 different currencies, including:
South African Rand (ZAR)
United States Dollar (USD)
Canadian Dollar (CAD)
Euro (EUR)
Great Britain Pound (GBP)
And others 
How Does Peach Payments Work?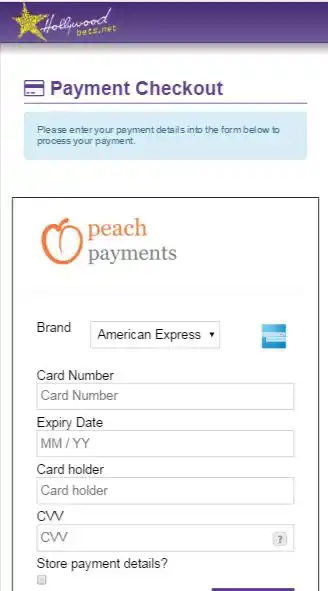 Peach Payments is a payment platform rather than a payment solution. Players at a local online casino that uses Peach Payments can make a deposit as either a credit card payment or an instant EFT.
Let's take a closer look, using Hollywood Bets as an example in our step-by-step guide.
How to Make a Credit Card Deposit with Peach Payments
Log in to your account
Click on DEPOSIT
Click on MAKE A DEPOSIT
Next, select PEACH PAYMENTS CREDIT CARD
Enter the amount you wish to deposit. You can either enter the amount you wish to deposit or click on one of the amounts listed
Enter the following information:

Type of credit card – Visa, Mastercard, or American Express
Card number
Expiry date
Name of cardholder
CVV number
Click SAVE DETAILS if you wish to save your details and speed things up the next time you want to make a deposit

Click on PAY NOW
Click to CONFIRM
How to Make an Instant EFT Deposit with Peach Payments
Log in to your account
Click on DEPOSIT
Click on MAKE A DEPOSIT
Next, select PEACH PAYMENTS INSTANT EFT
Enter the amount you wish to deposit. You can either enter the amount you wish to deposit or click on one of the amounts listed
Click SUBMIT
Now, select your bank from the list
Enter the OTP sent from your bank via SMS or email
Log in to your bank account via Peach Payments' secure platform
Select the account you wish to use
Click CONFIRM PAYMENT
Enter the OTP you receive
Is Peach Payments Safe for South Africans?
Peach Payments is one of the most secure online payment platforms around. Both Peach Payments and your favourite online casino have taken several steps to ensure the safety of both your personal and banking information.
When using Peach Payments, your info is protected with SSL encryption and 3D secure processing (with the use of OTPs). Peach Payments also has several security agreements with their partners and other 3rd-parties who specialise in digital financial security, like Payment Card Industry Data Security Standards (PCI-DSS) standards, Payment Association of South Africa, and others.
Peach Payments vs Other Online Casino Payment Methods
Here's how Peach Payments stacks up against other online casino payment methods.
Payment Method
Transaction Fees
Payment Speed
Payment Speed
Customer Support
Usability
Peach Payments
1.5% to 3.5%
Immediate
Excellent
Email and phone line
Good
Maestro
2%
Up to 7 days
Excellent
24-hour live chat
Good
Visa
2.65%
Up to 5 business days
Excellent
24-hour freephone customer support
Good
EasyEFT
1%
3 to 5 business days
Good
24-hour customer support
Good
SID Instant NFT
3-5%
Up to 2 business days
Good
24-hour live chat
Good
1ForYou
0%
Instant
Excellent
Toll-free helplin
Email
Direct messages via social media
Excellent
Our Rating for Peach Payments: 4/5
In short, Peach Payments is fast, convenient, and secure. They've gone out of their way to make the payment process as painless as possible. In fact, if you click on SAVE DETAILS while making a payment with them, all of your details will be saved and the next time you want to make a payment things will be even faster. This is perhaps the one area where Peach Payments really stands out next to other payment platforms.
However, online casinos that accept Peach only offer instant EFT and credit card payments. It'd be great if players could make debit card payments via Peach Payments since debit cards are far more common than credit cards. Debit cards also encourage responsible gambling since you can only gamble with the money you actually have, rather than go into debt like you would using a credit card.
Pros and Cons of Peach Payments
Pros
It's fast and convenient, especially with the option to save your details for the next time you want to make a deposit at your favourite South African online casino
It's very secure
You've got the option of making payments via credit card or as an instant EFT
The money you deposit is available immediately
The fees are pretty low, with instant EFTs costing 1.5% per transaction and credit card transactions coming in at 3.5%
Cons
It'd be great if they also offered debit card payments
Why Trust Our Peach Payments Review?
The team here at PlayCasino are all fans of online gambling and sports betting. It's something many of us enjoy in our private lives. This means we know what to look for when writing a review. We wouldn't recommend anything that we wouldn't do or use ourselves. If something sucks, then we'll tell you. We also have a strict rating process that we follow to ensure you get the best news and reviews.
Peach Payments FAQs
What payment methods are offered by Peach Payments?
Peach Payments offer a wide selection of payment methods to South African users, including:
Credit card (VISA, Mastercard, and American Express)
Recurring / Subscription Payments
Multi-currency
Instant EFT
EFT Secure
Scan To Pay (Masterpass)
Mobicred
Apple Pay
Zeropay
Payflex
While Peach Payments offer all of the payment options listed above, local online casinos that use their platform currently only offer instant EFT and credit card payments.
What is the difference between a payment platform and a payment method?
Peach Payments is a payment platform. This means that they facilitate a range of different payment methods that users can use to shop or gamble online.
A payment method is a way that you can pay for something you buy online or use it to make a deposit into your gaming wallet at your favourite online casino. Popular payments methods at South African Online casinos include:
Do Peach Payments have an app that I can download?
No, as a payment platform, it wouldn't make sense for them to offer one. As a payment platform, they facilitate payments between the users and the online casino/store.
What are the benefits of using Peach Payments?
Peach Payments have gone to great lengths to ensure that both your personal and banking information is as secure as possible. They make use of SSL encryption, one-time pins, and have detailed and thorough agreements with several 3rd party online security specialists.
Their transaction fees are very competitive when compared to other payment methods. The fee for an instant EFT with Peach Payments is just 1.5% while credit card transactions are 3.5%.
Deposits made with Peach Payments at online casinos in South Africa, whether they be credit card payments or instant EFTs, are available immediately.
The option to save your details when making a payment with Peach Payments will make your next deposit even faster, simpler, and quicker.
How popular is Peach Payments?
As a payment platform, we probably don't realise just how often we're using one of their services or products. However, Peach Payments process R1 billion worth of payments for their merchants every month. They currently operate in South Africa, Mauritius, Kenya, and Kenya and have partnered with massive platforms like WooCommerce, Shopify, Wix, and Magento.
How do Peach Payments compare with other payment platforms like Payfast?
In terms of rates and transaction fees, Peach Payments is the more affordable of the two. However, Payfast does offer more payment options. In the end, we would say that Peach Payments seems to be the better option if they offer your preferred payment options due to their lower transaction fees.
Get in on the action
Sign up now for the latest bonuses, promotions, and new online casinos.
Have You Found What You're Looking for?
Your feedback is paramount!