Agh no man! This casino is no longer available. Try one of our top casinos below.
Currencies
South Africa Rand
Payment Methods
Zapper, OTT Voucher
Casino Launched:
2020-11-10
License
Western Cape Gambling and Racing Board (WCGRB)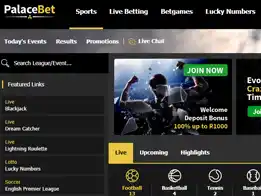 Betting Products & Games: Football, Basketball, Tennis, Baseball, Boxing, Cricket, Cycling, Darts, Esports, Floorball, American Football, Futsal, Gaelic Football, Gaelic Hurling, Golf, Handball, Horse Racing, Ice Hockey, MMA, Motor Racing, Rugby League, Rugby Union, Snooker and Pool, Specials, Table Tennis and Volleyball.
Min/Max Bets: R1/ max bet depends on the odds of the game/sport
Min/Max Withdrawals: Varies by payment method/ R1 Million
Currency: South African Rands (ZAR)
Welcome Bonus: 100% Match Bonus up to R1000
Rating: ⭐⭐⭐⭐
Bonuses at PalaceBet
First Deposit Bonus: If you have just registered an account with PalaceBet and are yet to make your first deposit, you should know that you have a welcome bonus to look forward to. The welcome bonus is exclusive to new players and is only available on your first deposit. So, what exactly is the welcome bonus worth?
Well, it is a match bonus of 100% up to a maximum of R1000. Claiming the welcome bonus is easy. Yo1u sign up for a new account and make your first deposit. For example, on a R500 first deposit, you will receive a 100% match, which in this case is R500. So, in total, you would have R1000 in your PalaceBet account.
There are some terms and conditions to this welcome bonus, some of the important ones to note are as below.
In order to be eligible to receive this bonus, you need to make a minimum deposit of at least R50. There is a wagering requirement of 3x the bonus amount plus the deposit amount which will need to be satisfied before you are able to withdraw any of the bonus money. The wagering requirement needs to be completed within 30 days of making your first deposit.
Cancelled bets will not count towards the wagering requirement. Certain types of bets will not count towards the wagering requirements. Live games betting do not count towards the wagering requirements. The maximum bonus amount that may be earned is limited to R1000.
Wagering requirement example – if you made a 1st deposit of R100, then you will receive a bonus of R100. Bonus + deposit amount = R200. The R200 needs to be played through at least 3 times, which is R200 * 3 = R600. So, in this case, you will need to wager through R600 before you are able to withdraw the bonus money.
How to Sign Up at PalaceBet ✍
PalaceBet is an online sportsbook exclusively for South African players. You may sign up if you are a South African citizen or even if you are currently based in South Africa on a work permit or a permanent residency. At PalaceBet, you can place real money bets on various sporting events and win real money rewards. In order to do so, you will first need to register an account. Fortunately, the registration process at PalaceBet is pretty simple and only takes a couple of minutes to complete. For a quick and easy registration, you may simply follow the below steps.
Go to the PalaceBet website –
Click on the red "Join Now" link at the top right corner of the screen
You will be redirected to a registration pop up window where the registration form appears
This is a three-part registration form
Part 1 – Choose your gender, enter your name, date or birth and email address and click on 'Next'
Part 2 – Select your state, enter your mobile number, choose either national ID or passport from the drop down, enter the ID number, Address, City, Post code and click 'Next'
Part 3 – Enter a user name for your account, configure a password and confirm it, select your source of funds from the drop down
Click on the 'I'm not a robot' captcha, tick the checkbox to opt-in to receive marketing materials and also tick the checkbox to confirm that you accept the terms and conditions
Finally, click on 'Create my Account'
A message 'your account is being created' will be displayed on the screen
Once the account is created, you will see a webpage "email verification is required"
A verification link will be sent to your email address, access your email inbox and click on the link to verify
From the next time, you can click on login and use your User Id and password to access your account – this can be done from mobile or PC.
Your account is now ready and you can login at anytime using the user ID and password. However, this is not to say that the account is entirely verified and active. As per the South African laws and legislation, you are required to complete FICA verification in order to unlock the full potential of your PalaceBet account. You can learn more about the FICA regulations here – https://www.fic.gov.za/Pages/Home.aspx
Until you are verified, you will see a red banner bar across the top of the website whenever you are logged into your account. It reads – "We Are Currently Verifying Your ID. Please Feel Free to Browse Around While We Do Our Checks. As Soon as This Red Bar Disappears, You're Ready to Go!"
Once you have submitted the required documents and verified your identity, the red bar will disappear and it means your account is now fully verified and good to go.
Placing Your First Bet
Obviously, the reason we have signed up with an online sportsbook such as PalaceBet is to primarily place bets on sports. Given that this is the main use case of the sportsbook, they have made the process intuitive and easy. In fact, placing a bet is pretty easy and it works on the concept of a Betslip which is very similar to the process at a land based sports betting parlour. 
If you are new to online sports betting, we can help you place your first bet with relative ease. You may follow the below instructions to get your first bet in. 
Before you start, ensure that you have sufficient funds in your account. The funds should be equal to or greater than the amount of the bet you plan to make.  Therefore, you will first need to click on the green 'Deposit' button after you have logged into your account, and then proceed to make your first deposit. 
Now that you have funds in your account, it should reflect in the balance. It is now time to select your bet. You may either choose the sport you want to place a bet on from the left-hand menu, or you can view specific sporting events that are live or upcoming under the tabs with the same names towards the central part of the home page dashboard. 
Once you select your sport, it is time to get more specific, you need to select the sporting competition. For example, if you chose football, then you may choose from any of the upcoming matches listed under 'daily match list' or choose a league from the 'top leagues match' or a match which is currently underway from the 'live' tab. 
Once you have selected the league or competition, you can select one of the listed games. You may either simply choose a winning side or draw (in case of football) or click on the more arrow to see various other betting options that are available. The odds are published in decimal format by default. Once you have selected the bet type, it is added to the Betslip. Now, go ahead and specify the stake and you will see the potential returns calculated according to the odds and the stake. 
If you have not completed your identity FICA procedure, you can do so now and then come back to the Betslip. 
Finally, you may either add more bets to the Betslip in the same way, or you can proceed to click on 'place bets' button. That's it! You have successfully placed your first bet at PalaceBet, congratulations! 
Popular Sports you can bet on at PalaceBet ⚽
PalaceBet allows for betting on a huge number of sporting markets. The sports list is viewable right on the home page on the left hand side menu. The whole list of sports that you may place bets on at this time are – Football, Basketball, Tennis, Baseball, Boxing, Cricket, Cycling, Darts, Esports, Floorball, American Football, Futsal, Gaelic Football, Gaelic Hurling, Golf, Handball, Horse Racing, Ice Hockey, MMA, Motor Racing, Rugby League, Rugby Union, Snooker and Pool, Specials, Table Tennis and Volleyball.
However, there are some sporting markets which receive a lot more diligent focus and this is driven by the demand of the users of course.
At PalaceBet, the most popular sporting markets are Football, Rugby, Cricket and Horse Racing. These are, as you know, a direct reflection of some of the most popular sports in the country.
When it comes to football, you can bet on plethora of competitions from around the world such as the Premier League, Championship, FA Cup, UEFA Champions League, Europa League, Euro 2022 Qualifiers, Euro 2022, Spanish La Liga, Italian Serie A, and other footballing leagues and competitions from countries like Germany, France, UAE, China, and a lot more.
Under Cricket, you will find betting on international cricket, Australian cricket, Indian cricket, IPL, and New Zealand cricket and any other major cricket tournament or match which is on – going or upcoming.
Horse racing is also classified by country. Depending on where in the season we are, the various upcoming derbies are listed below the tabs of their respective countries. For example, at the time of writing, you have races coming up in UK and Ireland and so you will find races from Nottingham, Fakenham, Tauton and Kempton under the UK and Ireland tab.
Likewise, when there are races upcoming or on going in South Africa, you will see them under a South African tab. Essentially you can place bets on local South African horse races as well as horse races from various parts of the world.
Other Games Available at PalaceBet 
Live Betting
Live game betting is not an uncommon feature among online sportsbooks these days. You have the ability to place a bet on certain sporting events even though the event has already 'kicked-off', as long as it is not concluded yet. The number of sporting markets you may take live bets on are substantially lesser than the full list of sports markets available for pre-match betting.
At PalaceBet, it is not only live sports you can bet on. You even have the feature of playing certain live casino games from the comfort of your own home or from your mobile while on the move. This includes live Blackjack, live Dream Catcher, live, and live Lightning Roulette. These live casino games are brought to you via real time high definition video streaming. The streaming is sourced from exclusive studios setup for this specific purpose or even from certain land – based casinos. You will now be able to interact with a real, live, human dealer as you play your favourite casino games. You may also interact with other players who are live on the same table or lobby as you.
Lotto – Lucky Numbers 
You will find the Lotto – Lucky Numbers option under the featured links section of the PalaceBet home page. If you like playing the lottery, you will enjoy the lucky numbers section. What can you do here? Well, you can buy yourself a lottery ticket for any lottery from anywhere in the world and even view the results and the draw when it is time.
Therefore, just like you can bet on a sport, you can enter a lottery as well from your PalaceBet sportsbook account.
How does PalaceBet compare to other Sportsbooks in terms of Betting Markets & Odds?
Being one of the newest online sportsbooks in the South African online gambling market, PalaceBet seems to be pretty conservative with their odds when it comes to some of the niche and lesser-played or less popular sporting markets like darts, Esports, floorball, futsal, Gaelic football, etc.
On the flip side, if you are interested in betting on events that belong to the more popular sporting markets like football, rugby, cricket, horse racing, MMA, tennis, basketball, etc. then you will find the odds to be noticeably higher than the average you may find at any land – based sports betting parlour or even other well-known online sportsbooks.
Also, since PalaceBet is a very new online sportsbook, we should wait and watch how the settle down on the odds they are offering, so take the above opinions with a pinch of salt for now.
PalaceBet App and Mobile Website Version
PalaceBetis a brand-new online sportsbook and they have launched their website just days ago. We were a bit let down by the fact that they have not launched apps for Android and iOS simultaneously. However, we did reach out to their customer support executives and have been told that there are going to be mobile apps coming out in the near future. 
Mobile vs. App Features and Benefits 
The mobile website requires no download

The mobile website does not take up storage space on your mobile

You can access the mobile website from any mobile device without any initial setup or installation process 

You will save on data since you don't have to download an app 
Some of the pros of playing on the mobile app are:
There is no mobile app available at this time 
 Mobile Bonuses and Payment Methods 
When we do see the launch of the PalaceBet mobile apps, we expect that it is going to be accompanied with some welcome bonuses which are exclusive to players who download and play on the app for the first time. This is a common app promotion strategy. 
However, at this time, there are no exclusive bonuses for players that play on mobile. 
The only way you can play on mobile at this time is simply by visiting the PalaceBet website on your mobile device. The only difference between the mobile website and the PC website is that the mobile website layout has been stacked to fit mobile screens and thus it is only a design/visual change. There are no changes in terms of functionalities or features. If you are on the mobile website, you will be able to access and claim the same promotions and use all of the same payment methods available on PC. 
System Requirements Compatibility
In order to play on the mobile website, you need a smartphone or tablet which is not obsolete. It could be an Android device, an iOS device or a Windows device. As long as the mobile device is running an operating system that still receives updates, you will be able to play on the mobile website. 
Please ensure that you have a web browser application installed on your device, supported browsers include Google Chrome, Safari, etc. 
Also, ensure that your mobile is connected to the internet via a stable, high speed connection so that you can place bets, make deposits and more without any interruptions. 
How to download the app on Apple IOS?
How to download the app on Android? 
Not available for Android (you can play using your Google Chrome browser on your android device by visiting the website directly

 )
| Deposit Method | Min. Deposit | Max. Deposit | Processing Time |
| --- | --- | --- | --- |
| VISA | Not specified | Not specified | Instant |
| MasterCard | Not specified | Not specified | Instant |
| Maestro | Not specified | Not specified | Instant |
| Instant EFT | Not specified | Not specified | 3-5 business days |
How to Make a Deposit: 
In order to make a deposit, you first need to be verified. In order to get your account verified, click on the 'My Account' tab on the top right-hand side of the home screen and then choose the 'document upload' option. You can now go ahead and upload images or scanned copies of your documents, the following documents are accepted for the FICA verification – Passport, Government issued ID, Driving License, Proof of Address and Proof of Bank Account document. Once you have verified your account, you will notice the red banner across the top of the website disappears and you can now make your deposits. In order to make a deposit, follow these simple steps
Login to your PalaceBet account
Click on the green deposit button next to the balance
Select your preferred payment type
Enter the deposit amount
Complete the deposit by following the prompts and entering the card details as prompted
| Withdrawal Method | Max. Withdrawal | Processing Time |
| --- | --- | --- |
| Visa debit cards | Not specified | 3 – 5 business days |
| Mastercard debit cards | Not specified | 3 – 5 business days |
How to Make a Withdrawal
Log in to your PalaceBet account and click on the 'My Account' icon or your name and then choose withdraw from the dropdown menu. Ensure you have sufficient balance to withdraw the amount you wish and also ensure that any bonus balance is eligible for withdrawal by having completed the wagering requirement on it.
Click on the withdrawal method you prefer and continue to fill in the banking details required and then confirm the withdrawal.
RECAP:
Unique Selling Points
Large collection of sporting markets to bet on
Live Betting supported for certain sports
Lucky numbers section to enter lotteries from around the world
R1000 free thanks to the welcome bonus
Developed in partnership with two renowned and trustworthy brands
Website is mobile friendly
Live dealer casino games offered
 Common Complaints 
No Android app or iOS app at the time of writing
No promotions except for the welcome bonus at the time of writing
About PalaceBet
PalaceBet is a newly launched online sportsbook which is exclusively available for players based in South Africa. This online sportsbook is the result of a collaboration between the renowned online gambling company DraftKings and Peermont, which is an award winning South African hospitality company with casinos being a facet of their business domain.
PalaceBet was launched in October of 2020. This full-fledged online sportsbook offers betting on a variety of sports of both local and international markets. Being brand new, the promotions section is still lacking and there are no mobile apps available for either Android or iOS devices, however, we are certain these are going to be available in the near future.
The two companies have a vision which is to be "committed to providing South Africa's sports fans with the most dynamic and innovative sports betting experience" as per Shay Berka who is the current Chief International Officer of DraftKings.
PalaceBet will use the readily available and proven sportsbook software platform of DraftKings. Some of the exciting features which are yet to be rolled out, but were touched upon in the press release include Your Bet and Pulse Betting. The huge range of sporting markets is sourced courtesy of a data sharing collaboration with Betgenius and IMG.
PalaceBet is a licensed online sportsbook which operates in accordance with the laws in South Africa and also adheres to the FICA verification requirements.
Customer Support & Contact Details
Email: support@palacebet.co.za

SA support phone number: 0860 PALACE
About Playcasino.co.za
Playcasino.co.za is the no1 online gambling guide for casinos online. If you're looking for a safe, legit, and legal online South African casino with the best free bonus on registration no deposit, look no further.
Playcasino.co.za is eCogra approved, which means it has been recognised as a reputable portal that is geared towards fairness and good legal standing for all players and online casinos. Our eCogra stamp of approval is our constant guiding light; it reminds us that our goal is to be helpful, reliable, and trustworthy in every aspect of what we do, and above all, to provide potential players with information that make their online experience better.
Have You Found What You're Looking for?
Your feedback is paramount!