Company:
Ragnarok Corporation N.V.
Support Types:
24/7 Live Chat
Email:
servis.ru@pinnacle.com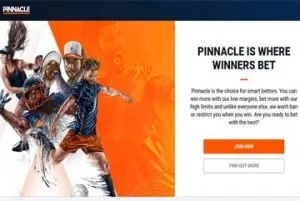 Betting Products &Games: Baseball, Basketball, Boxing, Esports, Football, Formula 1, Golf, Hockey, MMA, Rugby Union, Soccer, Tennis & More.
Min/ Max Bets:  $1 or the equivalent currency in your local currency and maximum bet is up to $50,000.
Min/Max Withdrawals: Vary depending on the payment method.
Currency: Brazilian Real, British Pound, Chinese Yuan, Colombian Peso & More
Rating: 4.3/5
Bonuses at Pinnacle Sport
At this time, Pinnacle sportsbook does not offer a first deposit bonus or a welcome bonus of any kind. The sportsbook does not need a welcome bonus to attract bettors since they offer some of the best odds and features and this is what really matters.
Other Promotions
Currently, there are no bonuses offered at Pinnacle Sportsbook. However, Pinnacle sportsbook does launch certain seasonal promotions from time to time. In order to stay in the know, we recommend that you subscribe to receive their email or SMS communications during the registration process. This way, you are notified of any promotion when it is launched and you can take advantage of it and reap the benefits. The casino section of Pinnacle is known for having plenty of promotions and rewards throughout the year, when compared to the sportsbook.
How to Sign Up at Pinnacle Sportsbook
Pinnacle is a real money online sportsbook and casino service where members can wager real money and win real money. This licensed online gambling platform is a member only platform. Only players over the age of 18 are allowed to sign up and gamble here. Thankfully, the sign-up process is quick and easy. It is a simple 4 step process which is self-explanatory and can be completed in a matter of minutes.
Registering an account with Pinnacle sportsbook is not the end of it. In order to use all of the various features and lift all restrictions from your account, you will need to get your account verified. Since Pinnacle sportsbook complies with the KYC mandates, you will be required to send them digital copies of certain documents to prove your identity and also to serve as address proof. If you are going to be using a credit card or debit card for banking, you may also have to send copies of the front and back of your card with the security code and certain digits of the card number censored.
However, the first thing you need to do to start placing bets on your favourite sporting teams and even for playing at the Pinnacle online casino is to register. If you need help signing up, you can follow the steps below for a hassle – free registration.
Visit the Pinnacle sportsbook website on your PC or mobile
Once the website landing page loads, click on the orange 'Join' button at the top right – hand corner You will now be redirected to the registration formtitled 'Create your account'.
In part 1 of the registration form, choose your country from the drop – down menu provided, enter your email address, configure a password for your account and confirm the password and then click 'Next'.
In part 2 of the registration form, choose your title and enter your first name, last name, date of birth and click 'Next'.
In part 3 of the registration form, choose your preferred currency, enter your home address city, post code and contact number with the country code and then click 'Next'.
In part 4 of the registration form, type in a security question and a security answer which will help if you ever forget your password and need to recover your account, mention how you heard about Pinnacle sportsbook and type in a VIP code if you have one.
Configure your marketing preferences – you can choose to receive marketing material about new promotions and offers via email, phone and/or post.
Complete the captcha to verify you are not a robot, check the box to confirm you are over the age of 18 and accept the terms and conditions and betting rules.
Also check the box to confirm you have read and accept the privacy policy. Finally, click on the 'Join' button.
At this point, a verification email is sent to the email address you provided. Click on the verification link in the mail to verify your email address and complete the registration process.
You can now enter your registered email address and password and login to your account.
Placing Your First Bet
Now that you have registered your Pinnacle sportsbook account, you can proceed to place sports bets or even wager on real money casino games. However, your account balance at this point is going to be $0.00 and in order to place your bet, you first need to deposit money into your account. Once you have sufficient balance in your account to support your bet, you can place a bet by following the below steps.
Essentially, the process to place a bet is intuitive and replicates the process of how you would place a bet at a land based sports parlour. The whole process is based around a Betslip. You first add your bet (one or multiple) to the Betslip, confirm the details of the bet and then proceed to confirm the bets. The exact steps involved are detailed below.
Go to the Pinnacle website home page and login to your account.
Towards the top right-hand side of the Pinnacle dashboard, you will see a section labelled 'Bet Slip'. Under the bet slip are various tabs such as singles, multiples and teasers. If you have multiple bets and these bets happen to be of various types such as singles, multiples and teasers, then the bets are sorted accordingly into these tabs.
Now to add a bet to the bet slip you need to select the specific bet you want to take.
You can do this in various ways – you can just click on the odds which are being shown under the highlighted games or the in-play live games and it will get added to your Betslip.
Or, select the sport you are interested in, and then narrow down to the which league or competition within the sport you want to bet on, and then select the specific sporting event you want to bet on. Finally, click on the odds of what bet you want to take and it will get added to your Betslip.
For example, you first select the sport (soccer), you then select the league (English Premier League). All the upcoming and live games happening in this league are listed, you can click on the odds that you want to add to the Betslip.
Once your bet is added to the Betslip, it will appear under the singles, multiples or teaser tab depending on what type of bet it is. Now go ahead and type in the stake amount you want to place on the bet, the forecasted win amount is calculated and shown to you once you enter the stake amount.
Now, the process and add more bets to the Betslip or proceed to confirm the bet that you have added.
Once confirmed, the total stake amount will be deducted from your Pinnacle sportsbook funds and the bet will be placed.
Good luck on the outcome of the bet.
Popular Sports you can bet on at Pinnacle Sportsbook
Pinnacle sportsbook is filled with tons of sports to pick and bet on. In fact, there are several hundred events that are featured every day at this sportsbook. An array of sporting events, competitions and more are covered at this sportsbook.
Broadly, the sports featured can be classified into two categories, namely, the top sports and everything else. The top sports are just a reflection of some of the most popular sports in the world and this includes soccer, tennis, hockey, baseball, basketball and Esports.
Other sports which are not as popular are listed in alphabetical order under the A-Z sports column.
The sportsbook also features a betting resources section which gives players a lot of valuable information with regards to some effective betting strategies and insights. Soccer is the most popular category at Pinnacle sportsbook and the betting resources section covers soccer betting strategies, premier league predictions, match day insights, champions league predictions, Serie A predictions, La Liga predictions, German Bundesliga predictions and more. This can really boost your knowledge about the current form of a team, or a player and help you make more informed betting decisions which in turn will result in better odds of you placing winning bets.
In Pinnacle's own words, "Pinnacle's Betting Resources is one of the most comprehensive collections of expert betting advice anywhere online. Catering to all experience levels our aim is simply to empower bettors to become more knowledgeable."
Other Games Available at Pinnacle Sportsbook
LiveIn-play betting
Live betting is supported at Pinnacle and you can find live events which are currently in-play under the 'Live Centre' section. Live betting lets you place bets on a sporting event which is already underway but has not yet ended. By the nature of being in-play, only certain bet types are supported in live in-play betting. For example, if a soccer match between Arsenal and Manchester United is live and the score is currently 1 – 0 to Arsenal, then the bet type to predict which team will score first is no longer available since this event has already transpired. However, the bet to predict the final score line would still be available as it is still to happen.
Live bets are usually placed into 'waiting' status for a short period of time to protect all parties involved from being victims of faster or slower live feeds. After a few minutes, all the waiting bets are accepted, provided that the game state has not materially changed. If the game state has materially changed then all waiting bets are rejected. So, if your live bet was rejected, this could be the reason.
Casino and Live Casino
One of the main advantages of signing up with Pinnacle sportsbook is the fact that you also get access to a real money online casino and a live dealer casino section. The casino section has plenty of bonuses and promotions when compared to the sportsbook side. At the casino, you can play slots, blackjack games, roulette games, and more for real money.
At live dealer online casinos, you are actually interacting with a human dealer through high-definition video stream. It is like playing with the dealer on FaceTime. Pinnacle also offers a live casino section which has plenty of live dealer games. The live dealer game categories include live baccarat, live blackjack, live roulette, game shows and other live games such as craps, three card poker, stud poker, etc.
How does Pinnacle compare to other Sportsbooks in terms of Betting Markets & Odds?
Pinnacle is one of the top online sportsbooks. A striking difference between Pinnacle and other popular online sportsbook is the lack of promotions at Pinnacle, especially the absence of a welcome bonus. However, Pinnacle makes up for it by offering some of the best odds you will find anywhere on the internet. In fact, this is the sole reason why Pinnacle has been a highly successful online sportsbook for over 20 years. This sportsbook does not need to attract players with gimmicky welcome bonuses. They've got the best odds and that's what experienced online sports bettors really want.
In terms of the betting markets offered, Pinnacle sportsbook is more or less on par with the industry average. Of course, they cover all the world's most popular sports such as Soccer, Basketball, Tennis, Esports, American football, Baseball and Hockey, but they also cover some niche sporting markets, a few examples of such niche markets include – Bandy, Skiing, Handball, Ski Jumping, etc. In total, Pinnacle currently offers betting on 20+ sports markets.
Pinnacle App and Mobile Website Version
Pinnacle offers an app called the live scores app which basically empowers the user with live scores, odds, schedules, and customized alerts. This app is free to download on the Google Play Store or the iTunes App Store. However, you cannot actually use this app to place bets.
If you are on the move and want to place a sports bet, you can do so since Pinnacle's sportsbook is 100% mobile friendly. You can simply access your web browser such as Google Chrome or Safari, visit the Pinnacle website, login using your email and password, and place your bet.
Mobile vs. App Features and Benefits
Some of the pros of playing on the mobile website are:
Download and installation not required
Access via mobile web browser from iOS, Android, Windows mobile
Will not use up mobile memory
Save on data since there is no download required
Some of the pros of playing on the mobile app are:
There is no app on which you can place bets
Mobile Bonuses and Payment Methods
Pinnacle sportsbook does not offer any bonuses or rebates. They make up for this by offering a reduced margin pricing model which ensures the best value for sports betting enthusiasts. This means that members make more money in the long terms when they win and provides much more profitability than making quick money from bonuses that you cannot even withdraw because there are so many terms and conditions to satisfy.
The mobile website does not offer any bonuses either. Since the mobile website is basically the same as the PC website. You can expect all the payment methods for both deposits and withdrawals to be supported for mobile too.
How to download the app on Apple IOS
There is no mobile betting app available at this time
You can download the live scores app from the iTunes App Store by searching for it
How to download the app on Android
There is no mobile betting app available at this time
You can download the live scores app from the Google Play Store by searching for it
Depositing and Withdrawing at Pinnacle
List of Accepted Depositing Methods:
Banking at Pinnacle sportsbook is hassle free and complemented by support for various currencies and payment methods. Whether you are looking to top up your funds through a deposit, or withdraw some of your winnings, the process is easy and there are multiple payment methods to pick from. Most importantly, all the banking transactions are secured through SSL encryption.
The payment methods available to you will vary depending on the country you are based in and also on which currency you have chosen to use. For South African players using US Dollars as the currency of choice, below are the accepted deposit and withdrawal methods.
| Deposit Method | Min. Deposit | Max. Deposit | Processing Time |
| --- | --- | --- | --- |
| Mastercard | $20 | $500 | Instant |
| Visa | $20 | $500 | Instant |
| Bitcoin | $20 | $500 | Instant |
| ecoPayz | $20 | $500 | Instant |
| WebMoney | $10 | $25,000 | Instant |
| Neteller | $10 | $50,000 | Instant |
| Skrill 1 - Tap | $10 | $50,000 | Instant |
| AstroPay Card | $10 | $50,000 | Instant |
How to Make a Deposit:
Click 'Deposit'
Select deposit method by clicking on one from the available payment methods
A pop up will appear, click on "Complete Deposit"
Choose deposit method again
Enter deposit amount and other requested details
Click on the green 'Submit' button
The deposit will be processed further
List of Accepted Withdrawal Methods:
| Withdrawal Method | Min. Withdrawal | Max. Withdrawal | Processing Time |
| --- | --- | --- | --- |
| Skrill | $10 | Not specified | 24 – 48 hours |
| Neteller | $10 | Not specified | 24 – 48 hours |
| WebMoney | $10 | Not specified | 24 – 48 hours |
| ecoPayz | $15 | Not specified | 24 – 48 hours |
| Bitcoin | $10 | Not specified | 24 – 48 hours |
| AstroPay Card | $10 | Not specified | 24 – 48 hours |
How to Make a Withdrawal:
Click on the user account icon (next to the client ID)
Select 'Withdraw' from the drop-down menu
Select your preferred withdrawal method
A pop up will appear, click on the "Complete withdrawal" tab
Select withdrawal method again
Enter withdrawal amount and other details as requested
Click on 'Submit' to confirm the withdrawal request
RECAP:
Unique Selling Points
Sportsbook, casino and live casino options in one account
Website is responsive and fully mobile optimized
20+ sporting markets offered
Informative betting resources section where you can learn a lot
Plenty of banking options and currencies to choose from
Supports cryptocurrencies (Bitcoin)
Reduced margin pricing model
Dark mode option
Choose the odds view you prefer
eCOGRA certified
Esports betting supported
Virtual sports betting supported
Live in – play betting supported
Common Complaints
No bonuses
No mobile app for betting
No Cashout feature
About Pinnacle Sportsbook
Pinnacle Sportsbook is known for offering the best odds in the market thanks to their reduced margin mode. Furthermore, they also offer the highest upper limits when it comes to the maximum allowed bet amount, this is something which high rollers will really appreciate. A lot of online sportsbooks and casinos tend to discourage winners and sometimes even restrict accounts which have won big, but not Pinnacle, winners are welcome here.
The resource centre is another plus of being a Pinnacle sportsbook member, you will find 1000+ articles full of helpful information that covers effective betting strategies, predictions, insights for upcoming games and much more. The online casino section is home to over 1000+ slots and table games.
You might also want to take a look at Supabets Casino. Go to superbet register now and collect your supa bet sign up bonus for new members.
Customer Support & Contact Details
Email: customerservice@pinnacle.com
Quick Contact Form
FAQs
Currently, there is no Pinnacle Sportsbook FICA bonus.
Pinnacle Sportsbook offers various online betting products. You can bet on over 20+ popular sports markets which includes Soccer, Tennis, Basketball, Baseball, American Football, MMA and several more. Furthermore, Pinnacle sportsbook also offers betting on casino games, eSports, virtual sports and live casino games.
Yes, Pinnacle Sportsbook offers live casino games which may be found under the 'Live Casino' section. In this section, you can play live games from categories like roulette, baccarat, blackjack and a few others.
Banking Options available for South African players are – Mastercard, Visa, EcoPayz, Neteller, Skrill, Skrill 1 – Tap, WebMoney, Bitcoin and AstroPay Card. Mastercard and Visa are supported for deposits only.
The withdrawal time frame may vary depending on which banking method you choose to use.
There are various facets about Pinnacle Sportsbook which makes it unique and sets it apart from their competitors. The most substantial aspect is that they offer the best odds in the market. Furthermore, they have a rich and vast resource centre amongst other things.
You can contact customer support by filling out the quick contact form in the 'contact us' section or by writing to customerservice@pinnacle.com
Pinnacle sportsbook is hosted overseas and not within the borders of South Africa. Considering this fact, the South African legislation regarding online gambling cannot be implied of Pinnacle sportsbook since it is not based in South Africa. Players from South African are welcome to sign up and play with Pinnacle.
Yes, Pinnacle Sportsbook is a mobile friendly online sportsbook website that you can access from mobile browsers such as Google Chrome and Safari. All you need is an active internet connection. Pinnacle also offers a mobile app called "Live Scores" which is available for free download on the Play Store and the iTunes store, however, this app does not support betting feature, it only supports notifications, live updates, predictions, etc.
It only takes a few minutes to set up an account. The sign-up process is a 4-part registration form which you need to duly fill with accurate and complete details. Once you have filled up the registration form with personal details, contact details and account details, you will also have to confirm that you accept the terms and conditions and the privacy policy before you can successfully register. A step by step sign up process has been detailed above in this article under the heading "how to sign up at Pinnacle"
Currently, there are no free bet bonuses or offers running at Pinnacle Sportsbook.