Pros and Cons
Pros
Potential massive payouts with multipliers.
Engaging and straightforward gameplay.
Excellent streaming quality.
Cons
May seem overly dependent on luck for some.
Less strategic than other casino games.
How to Play Super Sic Bo
Super Sic Bo is a game that combines the traditional elements of the ancient Chinese dice game with modern twists, including random multipliers. Here's a comprehensive guide on how to play:
Understanding the Dice:
The game uses three standard dice, each with a face value ranging from 1 to 6. The Three dice are rolled inside a transparent dome.
Placing Bets:
Begin by placing your bets on one or more combinations shown on the game's betting grid. The objective is to predict the outcome of the shake of the three dice.
Random Multipliers:
Once the betting period is over, as the dice are shaken, certain bet spots will randomly be assigned multipliers, anywhere from zero to several, that can reach up to a massive 1000x. If your bet lands on a winning spot with a multiplier, your payout will be adjusted accordingly.

Different Bet Types:
Super Sic Bo introduces a variety of betting options. Let's break done each one:
Small/Big: Bet on whether the sum of the three dice will be Small (4-10) or Big (11-17). Beware! These bets lose if any Triple comes up.
Odd/Even: Wager on whether the total of the three dice will be an odd or an even number. Just like Small/Big, these bets also lose to any Triple.
Total: Here, you have 14 betting areas, labelled from 4 to 17. Place your bet on any of these, predicting the total sum of the dice. Note: 3 and 18 are excluded. The payout varies depending on the winning total.
Single: Bet on any of the six areas labelled ONE to SIX, representing the face values of the dice. The payout increases based on how many dice display the chosen number.
Double: Place your bet on any of the six Double spots. To clinch a win, two out of the three dice should display the same number. The payout remains consistent, regardless of whether two or three dice match.
Triple: Wager on any of the six Triple spots, and win when all three dice display the number you've chosen.
Any Triple: An interesting bet where you're betting on any triple result. If all three dice have the same value, you win!
Combination: This allows you to bet on all 15 potential two-dice combinations.
Super Sic Bo Payout and Volatility
The three dice will be rolled inside the transparent dome. Once they settle, if your prediction matches the outcome, you win. Landing on a spot with a multiplier will exponentially increase your winnings.
Your bet limits are:
Min. bet: $0.25
Max. bet: $100
The RTP for Super Sic Bo stands at 97.22% when using an optimal strategy, which involves betting on Big/Small or Even/Odd. Here are the detailed payouts and potential multipliers:
| Bet | Pays |
| --- | --- |
| Small/Big | 1 to 1 |
| Even/Odd | 1 to 1 |
| 4 or 17 | 50 - 499 to 1 |
| 5 or 16 | 20 - 249 to 1 |
| 6 or 15 | 15 - 87 to 1 |
| 7 or 14 | 12 - 29 to 1 |
| 8 or 13 | 8 - 24 to 1 |
| 9 or 12 | 6 - 49 to 1 |
| 10 or 11 | 6 - 24 to 1 |
| Single (1, 2 or 3 dice) | 1 to 1, 2 - 19 to 1, 3 - 87 to 1 |
| Double | 8 - 87 to 1 |
| Triple | 150 - 999 to 1 |
| Any Triple | 30 - 87 to 1 |
| Combination | 5 - 24 to 1 |
Super Sic Bo Strategy
In traditional Sic Bo, it's ideal to focus on the Small/Big or Odd/Even bets, thanks to their near 50% win rate. This remains a good strategy for Super Sic Bo. However, these low-risk bets won't bring in the big multipliers. For the big rewards, riskier bets like Triples are necessary. Consider placing periodic bets on Triples or combinations to qualify for multipliers. While these come with a lower win probability, you stand a chance to win big with multipliers.
Important: Use strategies to elevate your gameplay experience, not as a guaranteed income source. Always play responsibly.
Super Sic Bo Demo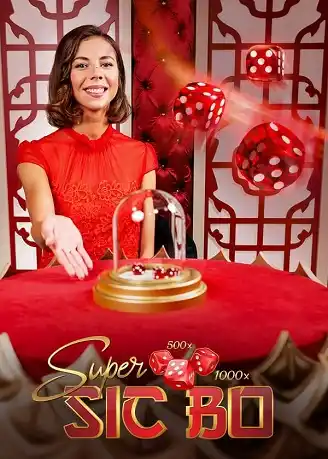 Unfortunately there isn't a free Super Sic Bo demo version.
Super Sic Bo Graphics
The interface is seamlessly divided into two distinct parts: a crisp, digitally rendered betting layout and a clear, high-definition video stream. This gives players the sensation of being in a real casino while enjoying the game from the comfort of their homes.
The bottom of your screen is dominated by a virtual betting table, where players can easily discern the available wagers. These wagers differ in size, ensuring players can spot them effortlessly. A prominent banner indicates the betting time, ensuring that players never miss their chance to place a bet.
Adding to the immersion, the game provides stats from previous rounds. This not only allows players to strategize but also gives insight into trends like the percentage of big, small, and even triple wins.
The larger portion of the screen is dedicated to a video stream broadcast live from the studio. This ensures players can keep an eye on the dealer, the dice, and the table throughout the game. For those who prefer a different perspective, the game thoughtfully allows changing camera angles.
Unlike many casino games that lean heavily on musical soundtracks, Super Sic Bo offers a more authentic experience. The sound of dice tumbling can be heard, echoing the anticipation of every roll. And, as is customary with Evolution Gaming, the dealer interacts with players, further upping the energy of the gaming experience. Should players wish to chat or ask questions, a live chat function is available, bringing a touch of realism to the virtual setting.
Super Sic Bo Bonuses & Free Spins
While the game doesn't offer traditional free spins, the game shines with its random multiplier feature. Bet spots can get multipliers attached to them, potentially multiplying your winnings up to 1,000 times! The simplicity of this oddly increases the engagement and sense of suspense, which some might prefer to overcomplicate bonus features.
Super Sic Bo On Mobile
Good news for the tech-savvy, on-the-go South African player: Super Sic Bo is fully optimised for mobile play, ensuring seamless gaming wherever you are. As long as you have a decent internet connection (and have chosen a top mobile casino), streaming remains flawless with no glitches in gameplay.
Should You Play Super Sic Bo?
Definitely! Especially if you're after a game that combines age-old tradition with modern twists. The chance for massive payouts at real-money casinos and the thrill of the dice make it a must-try.
Best Casinos To Play Super Sic Bo For Real Money
Other Live Casino Games You May Be Interested In
Our Verdict on Super Sic Bo
For South African players after a unique blend of traditional games of chance and modern gameplay, Super Sic Bo is truly a gem, offering a gaming experience that's hard to match.
Super Sic Bo marries sharp, modern visuals with the authentic sounds of a live casino. Evolution Gaming's dedication to crafting a realistic and interactive experience shines through every aspect of the game.
This is certainly a game that I will be revisiting soon!
FAQs
Super Sic Bo is an exciting variation of the classic Chinese dice game, Sic Bo. Developed by Evolution Gaming, this modern version introduces random multipliers and offers the possibility of winning up to 1000 times your bet.
Is Super Sic Bo different from traditional Sic Bo?
While traditional Sic Bo is a game of chance using three dice, Super Sic Bo enhances the excitement by adding random multipliers to the game. Additionally, you can play live with live dealers and an authentic casino experience.
Can I play Super Sic Bo on my mobile?
Absolutely! Evolution Gaming is renowned for providing top quality live casinos on any device or computer. As long as your internet can support streaming, you're good to go.
Is Sic Bo popular in South Africa?
Yes, with its exciting gameplay and potential for big wins, it has recently been gaining a lot of attention from South African players.
What is the RTP of Super Sic Bo?
Super Sic Bo boasts a solid Return to Player (RTP) of 97.22% on main bets, making it a relatively fair game with good odds for the player.
Can I play Super Sic Bo for free?
Yes, many online casinos that feature Evolution Gaming products offer a Demo Mode for Super Sic Bo. This allows you to try the game for free before wagering real money. You can also find a demo in this review.
Get in on the action
Sign up now for the latest bonuses, promotions, and new online casinos.
Have You Found What You're Looking for?
Your feedback is paramount!