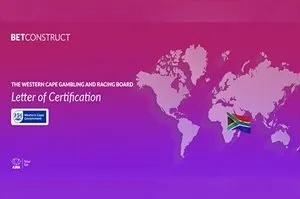 The Western Cape Gambling and Racing Board granted permission to the online gaming solutions provider, BetConstruct to roll out a sportsbook platform. The new product will be done in collaboration with the South African online gambling operator, Gbets. BetConstruct was given the green light to develop the sports betting platform using its national manufacturer license obtained by the SA National Gambling Board.
The new sportsbook client is due to go live in the South African gambling market at the end of this month.
Gbet, under its parent company Goldrush Group, launched its online gambling arm in Lesotho in September this year.
The Managing Director at Goldrush Group, Dhrupal Amin, said: "BetConstruct represents the cutting edge of betting technology. Innovations such as Hoory, the voice activated betting assistant, and live multi-play are just some of the leading innovations that attracted Gbets to the BetConstruct technology platform."
Amin went on to say that Gbets has made a significant investment in furthering Goldrush Group's online gaming operations and pointed out that the group currently operates online gaming operations in South Africa, Lesotho and Mozambique.
Earlier this year, Goldrush Group relaunched its online business in Lesotho on the BetConstruct platform, which offers, among other things, sports betting, live casino and online casino products. According to Amin, the market response to the platform has "exceeded expectations," and the group is seeing strong growth in new customer acquisition.
The MD said that towards the end of this month, South African gamblers can look forward to an "innovative, world-class betting experience" with product features that are new to the South African sports betting landscape.
In the meantime, the head of licensing and certification for BetConstruct, Karine Kocharyan, said that the certification indicated another move forward for the group to expand its supply throughout the country.
"We are happy to start this journey with one of our biggest partners in the region – Gbets, who is planning to relaunch their operations via our platform end of November," she added.
About Playcasino.co.za:
Playcasino.co.za is the no1 guide for online gambling sites South Africa. If you're looking for the best no deposit free spins casino South Africa oriented, make sure to check our selection.