When Is the Durban July 2023?
This year, the Durban July will take place on July 1st.
What Is the Durban July Theme for 2023?
Every year, the Durban July theme is launched based on a poem, and this year's winner was Out of This World. 
OUT OF THIS WORLD
The heavens at night,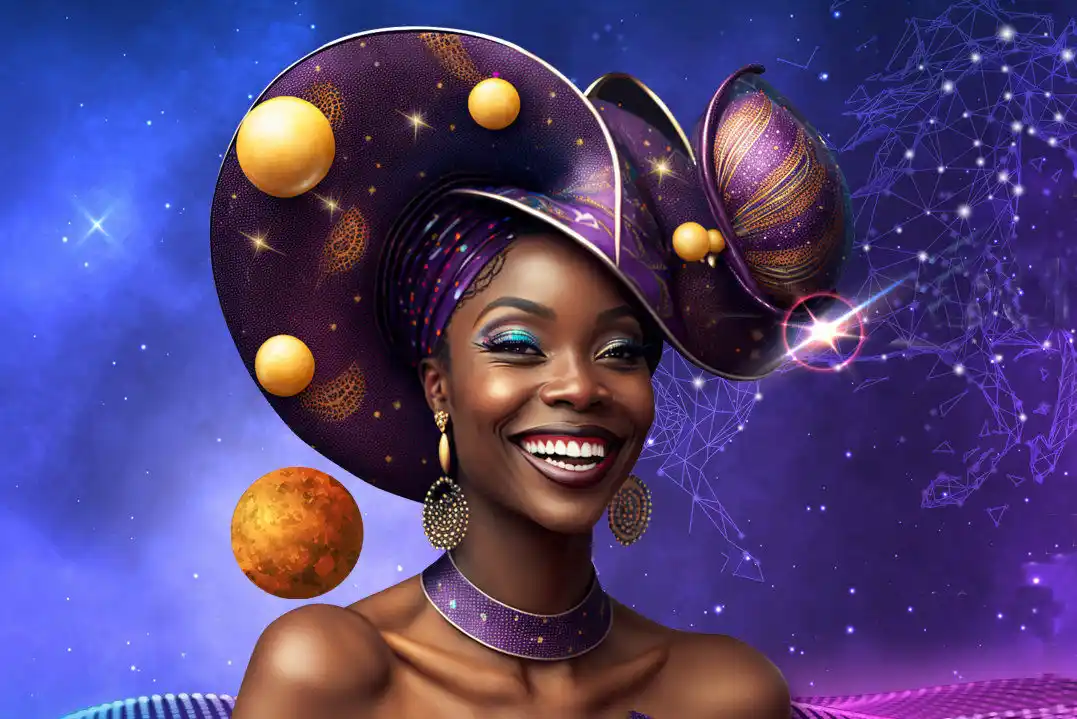 Purple skyglow, almost black.
The full moon so bright,
Wispy clouds seem laid-back.
The planets in deeper space,
Vista pin-pricked by stars.
Spot one with an amber glow,
Could that be Mars?
Other planets out there,
Inspiringly colourful too.
Your imagination will run wild,
Focus on one that suits you.
Now come down to Earth,
For the greatest horseracing affair.
Fashion, fun and entertainment,
And the latest equine millionaire.
Students from fashion design colleges and Technikons across KwaZulu-Natal have this task set as part of their curriculum, and it also serves as their entry into the Hollywoodbets Durban July Young Designer Awards presented by Durban Fashion Fair (DFF).
Durban July Horses — Final Field 2023
Thursday, July 15, 2023, saw the much-anticipated final field for the Durban July 2023 unveiled, which included no real surprises: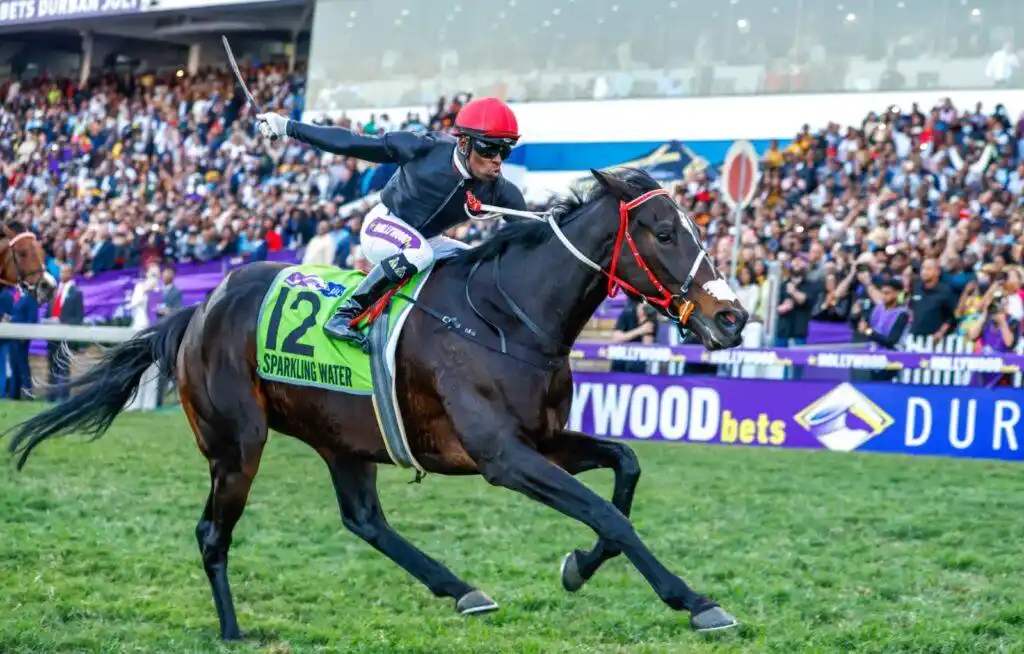 Sc#

Horse

Mass

MR

Draw

B  A  T  M

Jockey

Trainer

1

BLESS MY STARS

52.0

109

1

A

A Mgudlwa

Sean Tarry

2

WITHOUT QUESTION

54.5

120

2

A

R Fourie

Justin Snaith

3

TIME FLIES

55.0

117

3

C  A

L Mxothwa

Brett Crawford

4

WINCHESTER MANSION

53.0

112

4

C  A

K Matsunyane

Brett Crawford

5

BILLY BOWLEGS

53.5

118

5

A

S Veale

Alec Laird

6

DO IT AGAIN

57.0

121

6

B  A

G Lerena

Justin Snaith

7

SEE IT AGAIN

56.5

124

7

B  A

P Strydom

Michael Roberts

8

SILVER DARLING

55.0

117

8

B  A

J P Van Der  Merwe

Justin Snaith

9

SON OF RAJ

53.0

115

9

B  A

M Yeni

Weiho Marwing

10

DAVE THE KING

55.5

122

10

A

C Zackey

Mike de Kock

11

PUERTO MANZANO

58.0

123

11

B  A

K de Melo

J A Janse van Vuuren

12

PACAYA

53.0

110

12

A

G van Niekerk

Justin Snaith

13

SECOND BASE

56.5

120

13

B  A

C Maujean

Robyn Klaasen

14

SAFE PASSAGE

58.0

123

14

A

C Soumillon

Mike de Kock

15

RASCALLION

57.5

122

15

A

C Orffer

Vaughan Marshall

16

TRIP OF FORTUNE

60.0

127

16

B  A  T

A Domeyer

Candice Bass-Robinson

17

RAIN IN HOLLAND

56.5

120

17

B  A

S Khumalo

Sean Tarry

18

POMP AND POWER

58.0

123

18

A

B Fayd'Herbe

Justin Snaith

Reserve Runners

19

NEBRAAS

55.0

117

19

B  A  T

Reserve 1

Sean Tarry

20

JIMMY DON

53.0

116

20

A

Reserve 2

Erico Verdonese
Who Will Win the Durban July 2023?
Although Bless My Stars is the current favourite, the fun of watching the Durban July is that there's no telling who will win! 
Who Won the Durban July 2022?
Sparkling Water was the only filly that took part in the Hollywoodbets Durban July in 2022, and she went on to win by an incredible 4 lengths. 
The Durban July's Best Dressed 2022
As is the case with horse races the world over, the Durban July is as much about horses and betting as it is about fashion! Local designers take part in a fashion show, and guests compete for best-dressed prizes. Last year's winner of the Young Designer Award was Ismael Mchunu, and the winners for the various categories were as follows:
Classic Race Day for Women
Overall winner: Makhosazane Ntshangase
1st runner-up: Martin John Steenkamp
2nd runner-up: Makhosazane Ntshangase
Classic Race Day for Men
Overall winner: Sipho Mugazi
1st runner-up: Martin John Steenkamp
2nd runner-up: MnothoNgema
Most Striking Couple
Overall winner: Pamela Shabane and Kent Hollenberg, who were dressed by Brenda Waring and Pamela Shabane.
2nd runner-up: Siyabonga Makaula, Cayleigh de Beer and Micaela van Heerden, who were dressed by Makaula and Van Heerden.
3rd runner-up: Denelle Ince and Josh Jacobs, who were dressed by Leona Adams.
Betting on Durban July 2023 — Tips and Advice
Whether you've bet on the Durban July before or not, you may find that our tips and advice come in handy when you wager this year:
Do Your Homework
Research is by far the most valuable tool you've got in your betting arsenal. Spend some time looking at the horse's form, their jockeys, and even their trainers. You should also analyse the conditions of the track because this will have a serious impact on the race's outcome.
Keep an Eye on the Odds
The odds are the bookmaker's idea of which horses are going to perform well in the Durban July. They may change leading up to the event, so make sure you know what the most recent odds are at all times. 
Look at Previous Performances
When you review how horses have fared under similar conditions at previous races, you'll have a better idea of how they'll do in the Durban July.
Where to Bet on the Durban July
There are many places to wager on the Durban July, but only a handful of bookmakers are recommended by the experts at PlayCasino. We've tested them for security, fairness, and availability, and can assure you that you're in good hands if you wager with:
Durban July 2023 FAQs
What is so special about the Durban July?
It's the biggest Grade 1 thoroughbred horse race in South Africa.
How much is the Durban July prize money?
The various prizes add up to R5,000,000. The winner will get roughly R3,000,000, the 2nd runner up R800,000, the 3rd runner up R400,000, and the 4th R200,000. It's one of South Africa's richest races.
How much are Durban July tickets?
General Entrance tickets will cost you R230 per person and Red Dot Parking is available at R170 per car. All ages pay the same price and tickets can easily be bought online at Ticketpro, Payzone Kiosks, SPAR stores, and the website for the Durban July itself.
Are kids allowed at the Durban July?
Although it's not exactly a child-friendly event, kids are permitted in certain areas of the Greyville Racecourse. They are not allowed in areas where betting or drinking takes place.
Where can I live stream the Durban July?
The leading bookmakers mentioned in this guide and endorsed at our site will most likely stream the Durban July, and other websites may offer this service as well.
You May Also Be Interested In
Get in on the action
Sign up now for the latest bonuses, promotions, and new online casinos.
Have You Found What You're Looking for?
Your feedback is paramount!