AZTEC'S TREASURE SLOT FREE DEMO: CHECK IT OUT ONLINE OR ON MOBILE!
If you haven't played Aztec's Treasure slot previously, we suggest that you try the slot in the fun play mode first. You can always switch over to real money gameplay at any time.
Even if you happen to be an experienced video slot player, it's in your best interest to adopt a simple strategy where you play a new game in demo mode. In fact, even if you have played RTG video slots specifically, the fun play mode is a good idea because as you may know, every slot is unique and has certain features and tweaks of its own. So, before you lay down some of your hard earned money, figuring out the ergonomics of the slot fully using the fun play mode would be just perfect.
If you would like to give Aztec's Treasure video slot some spins for free and see if you like it, you can do so right here. Please note that you need the Flash player plugin on your browser in order to play. We can write all about the game, but whether you are actually going to like playing it or not boils down to your personal preferences. Therefore, check it out in fun play and see if any sparks fly off.
Gameplay & Bonus Features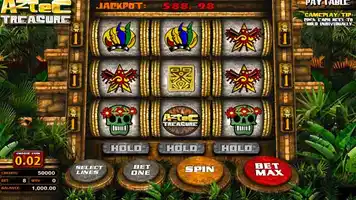 GAME FEATURES & BONUSES
Random Jackpot: The Random Jackpot is an iconic RTG slot feature which you see across various RTG slots. The random jackpot is so popular and that's precisely why RTG sticks with it. In the specific case of Aztec's Treasure slot, the random jackpot is the progressive jackpot. A progressive jackpot does not have a fixed value. The value fluctuates, and the total pot value is approximately the sum of all losing bets made up to the point. Therefore, sometimes the value of the pot can get pretty huge.
So, how can you win the random progressive jackpot at Aztec's Treasure? Well, every time you spin the reels, there is a very slight chance you might win it. You don't have to keep your eyes peeled for any special symbols. The jackpot transpires randomly. The exact value of the random jackpot is displayed right on top of the reel set. Usually, the value average's just over R30,000.
Turbo Play: In order to toggle the turbo play feature on or off, you can click on menu at the lower left-hand corner of the game interface and then click on Autoplay Options. You will find a checkbox for turbo play, which you can toggle on and off. By default, the turbo play option is turned on when you load up Aztec's Treasure slot. Therefore, every time you spin the reels, it spins for just a quick second and you see the results. However, if turbo play is disabled, the reels continue to spin for a further 2-3 seconds and the reels come to a stop one after the other from left to right to reveal the results. If you are in no hurry, playing with the turbo play off could be more exciting.
Fun Play: We've gone over why playing in fun play mode before you play for real money is a strategic approach to a new video slot. Or, if you just don't want to bet real money and want to kill time, fun mode is great for that too. Unfortunately, some video slots are not available to play in fun mode. Thankfully, Aztec's Treasure is not one such slot. When you play in fun mode, you get fun play credits of R1000 to spin to your hearts content. Obviously, any wins or losses in fun play mode will not translate to real money.
Auto Play: The auto play button is right in between the bet adjustment and line selection buttons. Auto play basically means that the slot will continue to spin by itself and you don't have to manually hit spin at the end of every spin. The auto play mode can be configured in great detail by the player. Click on menu, and then click on auto play options. You can choose how many spins you want to automated, on what conditions the auto play should cease, and also whether each spin should be in turbo play or not. You can automate anywhere between a minimum of 5 spins and a maximum of 1000 spins.
Wild: The wild symbol in Aztec's Treasure is the Aztec King symbol. You cannot mistake this symbol – it is a Mayan man with traditional attire and jewellery on. The Aztec King symbol can appear anywhere on reels 2, 3 and 4. Basically, this wild symbol plays a role similar to what a joker card plays in a deck of cards. The wild symbol can be substituted by any other symbol that may be lacking to make a winning combination. However, the wild cannot be substituted for the scatter symbol. If there are any substitutions that will result in a winning combination, the substitution will be made automatically.
Scatter: The scatter symbol looks like a golden idol of an Aztec god with elaborate head gear and adorned by emeralds. Unlike the wild symbol, the scatter symbol can land anywhere on any of the five reels. If you land at least 3 or more scatter symbols in one spin, anywhere on the reels, it will trigger some free spin rounds.
Free Spins: How many free spin rounds are triggered will depend on the number of scatter symbols that appear. Three scatter symbols will result in 5 free spins, four scatter symbols are worth 15 free spins while five scatter symbols fetch a massive 100 free spins. When you are in the free spins round, if a scatter symbol shows up on the reels, you are rewarded with a bonus prize equivalent to the amount you had on stake during the triggering bet. You can also retrigger free spins when you are already in the free spins round by landing at least one or more free spins. Everything that you win during the free spins rounds is tripled, expect for the bonus.
HOW TO PLAY AZTEC'S TREASURE
Aztec's Treasure is a regular five reel video slot and is pretty simple to play. If you've played RTG slots before, you will feel right at home. If not, you always have the free play option to play risk – free when you are still on the learning curve.
In order to configure a bet and set the reels rolling, you can use the steps as below:
Load the Aztec's Treasure video slot (you will require Adobe Flash player plugin on your browser)
Configure your bet amount with the help of the arrow keys next to the "bet" button.
Select the number of lines you want to play using the arrow keys next to the
pay-lines button. You can select a minimum of 1 line and a maximum of 20 lines. The minimum and maximum stake will also vary depending on the number of active lines selected.
You are now all set, click the spin button and the reels will spin and come to a stop.
If you got a winning combination on any of the paylines, you will see your balance increase. If not, your balance will reduce by the amount of stake every time you spin. You can always choose to automate your spins using the auto play function.
MAIN PRIZES TO BE WON
The random jackpot is the main prize offering at Aztec's Treasure slot. This is a progressive jackpot and hence the amount you win is not fixed. However, the average value of the random jackpot us usually around R30,000.
Apart from the random jackpot, there's also the bonus prize that is rewarded during the free spins round. When you are in the free spins round, if you land a scatter symbol, you will be awarded with the bonus, which is basically the same amount in value as the bet you had on line when you entered the bonus round.
A third prize up for grabs is the wins in the free spins round. Except for the aforementioned bonus prize, everything else that you win during the free spins round is going to be multiplied by three. Triple the wins, triple the fun!
WHY DO SOUTH AFRICAN PLAYERS ENJOY PLAYING AZTEC'S TREASURE SLOTS?
Aztec's Treasure slot has been a hit amongst players from South Africa ever since its inception in the 2009. Even today, with so many immersive slots with intensive graphics to choose from, Aztec's Treasure slot has managed to stay relevant in the South African market and there are a few factors which has assured this.
Betting Range: Some slots are meant for those players who want to play with very small bets, not more than a couple of Rands at the most. Then there are slots which are only accommodating of players that want to go big – we're talking hundreds of Rands per spin. Aztec's Treasure makes room for both types of players and everyone that lies anywhere in between these two extremes. You can bet as little as R0.05 per spin to as much as R200 per spin.
Mobile Friendly: Aztec's Treasure was not specifically designed for mobile. It was designed for PC and it is evident because it is not responsive. However, you will be able to play this game on your smartphone or tablet in landscape mode with a little bit of zoom in and zoom out adjustments. Being able to play while on the move is a big plus for a lot of South African players.
Progressive Jackpot: Fixed jackpots have limits, but progressive jackpots don't. How much you win can vary and progressive jackpots usually offer much bigger winnings to the lucky few who are fortunate enough to come across the jackpot. Aztec's Treasure slot is a progressive jackpot and this hits the spot for South African players.
Instant Play: It is always much more convenient and accessible to have video slot games that you can play in a jiffy. No need to download software and install it. If you want to play Aztec's Treasure, you simply have to launch your web browser and you start spinning the reels right within the browser itself, provided you have the Flash plugin enabled.
Available at South African friendly online casinos: The slot is popular since it is available at online casinos serving the South African market. With virtually all leading South African friendly online casinos featuring RTG slots, it is no wonder that players in the Rainbow Nation have taken a liking towards games from RTG such as Aztec's Treasure.
SIMILAR SLOTS:
In the world of online casino slots, themes like Ancient Egyptian civilizations, Roman civilizations and Greek gods are pretty common and you see many of them in multiple slots. However, the Aztec civilization is a little rarer to come by. This makes it more unique and fun in our books.
There is one other popular slot based on Aztec Treasures and that is none other than 'John Hunter and Aztec Treasure' from Pragmatic Play.
This slot is known for being volatile and especially for its surplus of multipliers which makes every win worth way more than its face value. However, the Aztec Theme is pretty much where the similarities end. Unlike RTG's Aztec's Treasure, John Hunter and Aztec Treasure is a 6-reel slot with 7776 ways to win.
Play Aztec Treasure Slots for Real Money at these Casinos :
Other Slot Games You Might Like
FAQs
Does Aztec's Treasure slot have a no deposit free spins bonus?
Aztec's Treasure is a video slot from RTG, and it is not a standalone online casino by itself. A no deposit bonus is something that an online casino offers. Therefore, whether or not you get a no deposit bonus for signing up will depend on the particular casino you sign up with. You will find any no deposit free spins offer right here on our site, whenever they are made available.
Is a free play version available?
Yes, Aztec's Treasure is available in free play mode and you get free play credits of R1000 when you play in free play mode.
Can I play Aztec's Treasure slot for real money?
Yes, Aztec's Treasure slot was primarily designed to be a real money slot. You can bet real money, and win real money.
How much money can I win playing Aztec's Treasure slot?
The biggest prize offered at Aztec's Treasure slot is the random progressive jackpot which you can win out of the blue, irrespective of what lands on the reels. Since it is a progressive jackpot, the value can vary from time to time, it is not fixed. But to give you a ball park figure, you can expect to win upwards of R30,000.
Yes, Aztec's Treasure slot has a progressive jackpot which is triggered randomly. This is the only jackpot available in this game.
What's the theme of this slot game?
Aztec's Treasure slot is themed around the Aztec civilization indigenous to Mexico before the Spanish conquests of the 16th century. To the layman, it can look like a Red Indian theme.
What are some of the best features in this game?
Aztec's Treasure Slot has several features such as wilds, scatters, and the random progressive jackpot. However, the best feature of the game is probably the free spins round since all your wins in this round are tripled and you can even re-trigger the free spins in this feature.
Get in on the action
Sign up now for the latest bonuses, promotions, and new online casinos.
Have You Found What You're Looking for?
Your feedback is paramount!