What are casino games?
Before we dive into the nitty-gritty, let's start with the basics. A casino game is any game that you play in a casino with the intention of gambling. The outcome of the game is mostly determined by luck, but some games may also require skill. The most common types of casino games include table games, slot machines, and video poker.
Ready to get started? Buckle up and let's go!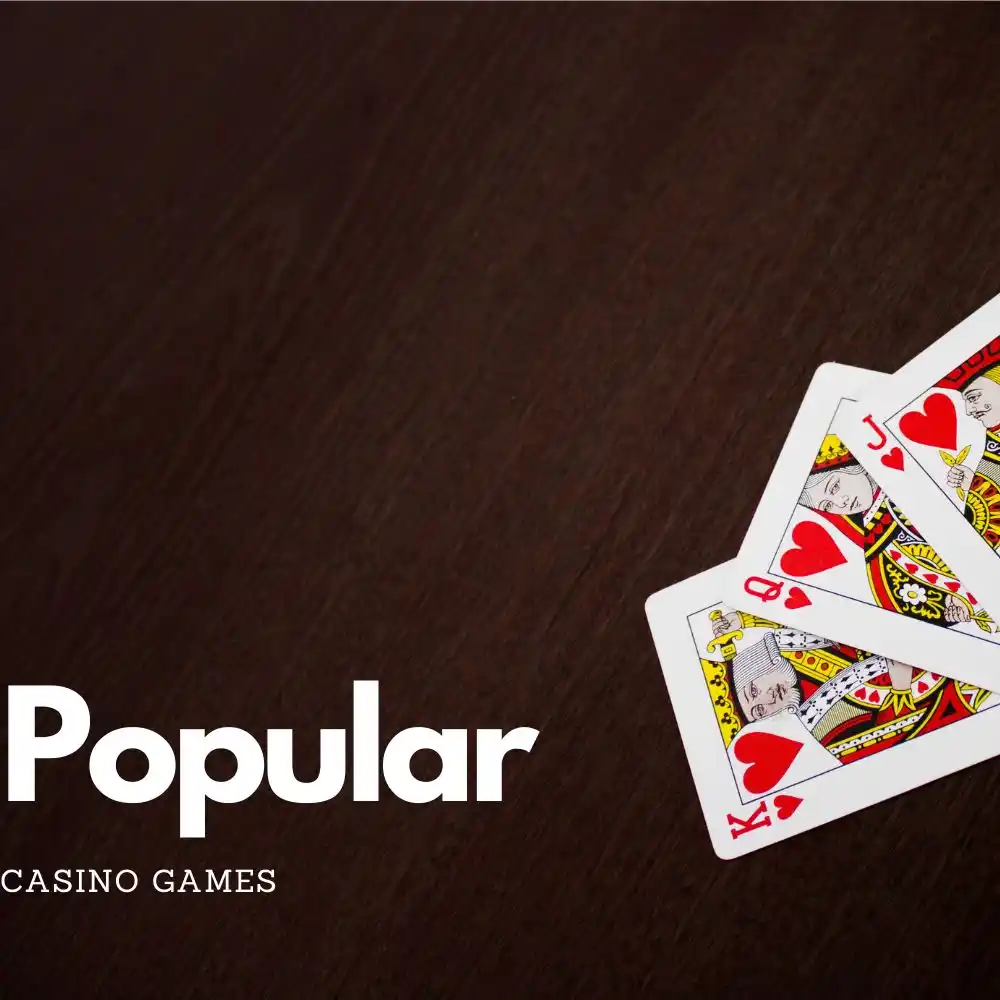 Table Games
Table games are typically played on a large table and involve one or more dealers. The most popular table games include:
Blackjack
Get ready to channel your inner James Bond, because we're talking about the ultimate casino classic - Blackjack, also known as 21. The goal of the game is simple: get a hand with a value of 21 or as close to 21 as possible without busting. You'll be playing with one or more decks of cards, with each card assigned a point value.
Here's how it works: the dealer deals two cards to each player and themselves, with one card face up and one face down. It's then up to you to decide whether to "hit" and receive another card or "stand" and keep your current hand. The dealer will then reveal their face-down card and hit or stand according to a set of predetermined rules. The player with the highest hand value without going over 21 is the winner.
But be warned, this game is not for the faint of heart. You'll need nerves of steel and quick thinking to outsmart the dealer and come out on top. So grab a seat at the table, put on your poker face, and let's see if you've got what it takes to beat the house at their own game.
Roulette
Picture this: the elegant roulette table, the sound of the spinning wheel, and the anticipation of where the ball will land. It's time to test your luck with this timeless casino games classic - Roulette. 
The game is simple, yet thrilling. You'll place your bets on where you think the ball will land on the spinning wheel, which is divided into numbered slots. Feeling lucky? Bet on an individual number for the chance to win big. Or, if you want to play it safe, you can bet on groups of numbers or the color of the number (red or black).
Once all the bets are placed, the dealer spins the wheel and drops the ball. The excitement builds as the ball bounces around the wheel, and finally comes to rest on a number. The winning bets are determined by the number where the ball lands. 
Take a spin on the wheel and see if lady luck is on your side. You never know, you could be the next big winner at the roulette table.
Craps
Roll the dice and let's play Craps, the fast-paced and exciting game of chance. The table is set, the bets are placed, and it's time to see if luck is on your side.
Players place their bets on the outcome of a roll or a series of rolls, and the table layout displays the various betting options. But it's not just about luck. Strategy and skill also come into play, as players take turns rolling the dice and must make calculated decisions on how to bet.
The outcome of the roll determines the winning and losing bets, and the tension builds as the dice bounce around the table. Will you be the lucky one to hit the winning roll? Or will you need to rely on your betting strategy to come out on top?
Baccarat
Baccarat is one classy card game that's been around for ages. The aim of the game is to get a hand as close to 9 as possible. Easy, right? But don't be fooled, there's a catch! You'll need to use all your wits and strategy to get there. The game is played with one or more decks of cards, with each card carrying a point value. The dealer deals two cards to the player and two to themselves, and then it's time to make some bets! Place your wager on whether you think the player's or the dealer's hand will be closest to 9. Feeling lucky? You can also bet on a tie!
More Casino Games
Slot Machines
Hold on to your hats, because we're about to talk about the one and only, the beloved, the ever-exciting slot machines! If you're looking for an easy and thrilling way to potentially strike it big at the casino, then you can't go wrong with these bad boys. Whether you're at a brick-and-mortar casino or playing online, all you have to do is pop in some coins or bills, hit that button or pull that lever, and watch those reels spin. If you're lucky enough to line up matching symbols, you'll walk away with a sweet payout. No skills required, just pure luck and a sense of adventure!
Video Poker
Let's talk about video poker. It's like a fun mash-up of slot machines and poker! Just like with slot machines, you insert your coin or bill and the machine deals you five cards. But here's the twist: you get to decide which cards to keep and which to toss aside. The machine then replaces the discarded cards, and you're left with your final hand. The goal? To get a hand with a winning combination of cards, like a pair of jacks or better. Get ready to test your luck and your poker skills!
Tips for Winning Casino Games
While casino games are mostly games of chance, there are some tips and strategies you can use to increase your chances of having fun. Here are a few:
Set a budget and stick to it.
Know the rules of the game before you start playing.
Look for games with the highest payout percentages.
Play games with the lowest house edge.
Take advantage of casino promotions and bonuses.
Know when to walk away and stop playing.
Casino games offer something for everyone
From the thrilling table games to the classic slot machines and the exhilarating video poker, there is something for everyone. But with all these options, it can be overwhelming. It's always important to remember to play responsibly. Set a budget, know your limits, and don't forget to take a break when you need it. And most importantly, have fun and good luck! 
Frequently Asked Questions about casino games
1. Are casino games fair?
Yes, most casino games are fair and operate under strict regulations to ensure fairness and randomness. If you are unsure, check out our list of South African casinos to make sure it's legit.
2. Can I play casino games online?
Yes, you can play casino games online at reputable online casinos.
3. Is it possible to win at casino games?
Yes, it is possible to win at casino games, but keep in mind that they are mostly games of chance.
4. How do I know which games to play?
You can choose games based on your preference or by looking at their payout percentages and house edges.
5. Can I play casino games for free?
Yes, some online casinos offer free play versions of their games, allowing you to try them out before betting real money.
Get in on the action
Sign up now for the latest bonuses, promotions, and new online casinos.
Have You Found What You're Looking for?
Your feedback is paramount!