Play Aliens Slots for Free (no Download & No Deposit Needed!)
Play the NetEnt Aliens slot game for free, right here on our website (No Download Necessary & No Deposit Needed). Increase or decrease your bet and change the number of lines. When you're ready, hit the "Spin Button". Enjoy!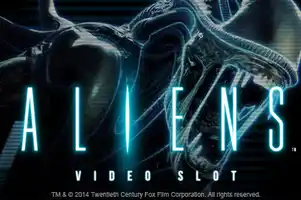 With 3D graphics, Aliens is one of the more advanced online video slot games NetEnt has created and the five reels, 15 fixed paylines and myriad of meaningful symbols will help any player unlock a win. The object of the game is to blow your way through the waves of aliens who are out for the blood of humans. If you manage to get through them, you'll get to the queen's hive, which is both an exciting and rewarding stage of the game.
Providing an experience that is more video game-like than it is slot-like, Aliens is a masterpiece visually and functionally and if you've seen any of the movies this slot is based on, you'll love this game. The game itself has been divided into three main stages, which could be considered to be bonus rounds in themselves, of which the first is the search for aliens and their hive. Players will be able to collect symbols, each of which comes with its own multipliers, to try and score the maximum amount of points on the alien activity scale. Getting this to this point will unlock stage two, the encounter with the aliens.
Stage two is all about kicking some alien butt with the aim of making it through to the queen's hive. Any of the multipliers you will have collected in the first round will be moved over to this level and you'll be able to add more of them to a maximum of six times you initial bet. The next level, the hive, is where the encounter with the alien queen begins and for every step you progress, you'll be awarded a point on the hive meter. Fill this up and you'll be rewarded with 240 times what you wagered, but this can only happen if you kill the queen and torch the hive.
Though the wins in this game are not easy to come by, it provides one of the most enthralling online gaming experiences you are likely to find anywhere. Sadly, there's no progressive, which is why we couldn't give the game a perfect score, but it is intensively interesting and really well made. This is one of the most well thought out games we've ever encountered and if you're not afraid of a little alien action, you will probably love it too. Our rating: 95/100
Other Slot Games You Might Like
Get in on the action
Sign up now for the latest bonuses, promotions, and new online casinos.
Have You Found What You're Looking for?
Your feedback is paramount!