Achilles Deluxe Slot Free Demo: Check it out Online or on Mobile!
If you are familiar with five-reeled video slots and the usual modern in-game bonus rounds, you should feel right at home playing Achilles Deluxe slot. However, there are some nuances to this game which takes a couple of sessions to get under your thumb.
Thankfully, Achilles Deluxe comes with a play for fun mode which is the perfect way to experience this slot without risking any real money. Provided that there is a fun-play mode, we recommend you use it at least a couple of time initially before moving on to playing for real money. This holds true for both new players and online slot veterans.
When it comes to video slots, no matter how similar they are to each other, the themes usually differ and therefore the symbols, the interface and even the way the bonuses work can vary. This is why it is considered best practice when you are putting together a winning strategy to play a new slot in fun-play mode first. When you are in fun-play mode, you are essentially dealing in dummy credits and not real money. Therefore, any losses incurred will not actually take a toll on your pockets, and naturally, neither will the wins.
If you are looking for a place to play Achilles Deluxe slot from RTG for free, you are in luck! You don't have to go to any online casino and sign up just to try this slot. We have the demo version right here for you. So, go ahead and give it a few spins.
Gameplay & Bonus Features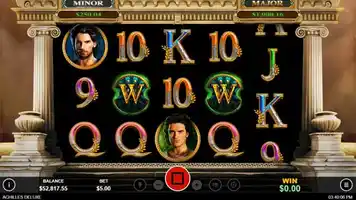 Game Features & Bonuses
Fun Play: In certain online casinos, Achilles Deluxe slot is available for fun play. If this option is available, you will see the 'play for fun' tab above the slot window on the top left corner of your screen when the slot is not in maximized view. If you are already in fun mode, the button will intuitively switch to 'play for real money'. Since we have already talked about what fun play mode is, we will not get into further details on that.
Auto Play: Achilles Deluxe has one of the easiest auto play options we have come across. In order to use auto play, just click on the auto play option in the panel below. You will find it between the max bet icon and the Win counter. The auto play icon looks a bit like the refresh icon. When you click on the auto play icon, it will extend to give you the options of choosing – 5.10. 25, 50 or 100 auto spins. The spin value for each of these spins is going to be what you have set as the stake or bet amount right before you start the auto spins. Auto play has never been easier, just two clicks.
Quickspin mode: If you want the action to unfold quicker between spins, you can enable the Quickspin mode by simply clicking on the lighting bolt icon. This increases the spin speed. If you are already in Quickspin mode, clicking on the lightning bolt icon will deactivate the quick spin mode.
Multipliers: The multiplier is always a good sign when you are spinning the reels of Achilles Deluxe Slot. This basically multiplies your winnings. Generally, the factor of multiplication is 3, but there are certain bonus rounds when it could be even higher. Not only are you stoked to have won, but now you get three times your winning thanks to the multiplier.
Wild: The wild symbol is a golden 'W' letter against an emerald green background. Depending on how many wilds you land, the award will vary. The more wilds you land, the higher the payoff. One wild gets you a win of 2, two gets you 25, three wilds get you 500, and four wilds get you the top jackpot of 2500. The wild symbol is primarily used as a substitute for any other symbol required to make a winning combination. The wild may not be used to replace a scatter.
Scatter: The scatter symbol is denoted by the 'Achilles Slot' logo like symbol. This has a dark pink background and the Achilles Slot Logo is in golden font in the foreground. You may land 3, 4 or 5 scatters to win 3, 30 and 500x your stake respectively.
Free Games: When you land three or more scatters on the reels, the free games are triggered. The scatters can land anywhere on the game board. You will receive 10 free games. During the free games round, not only do you get to spin the reels for free ten times, but any winnings made during this round are doubled in value.
The free games can also be re-triggered if and when you land three scatters at any time. Free games are played on the triggering spin bet and the bet cannot be changed once in the free games round. After all your free games have finished a banner will display your total winnings achieved during this feature.
Wild Free Games: The wild free games round is slightly different from the normal free games round. In order to trigger the wild free games round, you need to land at least 3 or more wild symbols anywhere on the game board. When triggered, you will have three hidden choices. What you choose will determine how many wild free games you receive – it could be 15, 20 or 25.
During the wild free games round, the scatter symbol is substituted for Wilds and the highest paying regular symbol. Just like the Free Games round – The Wild Free Games can also be re-triggered. Wild free games are played at the bet of the triggering spin and the bet cannot be changed once in the wild free games round. After all your wild free games have finished a banner will display your total winnings achieved during this feature.
How to Play Achilles
Achilles Deluxe Slot is very user friendly and intuitive. Playing the slot is simple, and in order to get used to the different symbols and bonus features, you can always use the free play mode.
In order to setup a bet and spin the reel, you can follow the below steps:
Load the Achilles video slot, it will load on the browser, no app required
Your bet amount is displayed, you can increase or decrease the bet amount by clicking the + and – buttons on either side of the green spin icon
Once you have the desired bet amount configured, you can click the prominent green spin icon in the centre of the control panel and right underneath the last symbol of the middle reel.
You can automate the spins by clicking on the auto spin icon located on the right (it looks like the spin icon but is smaller). If you want to speed up the spins you can activate the Quickspin mode by clicking on the lightning bolt icon. You also have settings option to mute audio or only the sound track if you so desire.
The values of the following are always displayed– balance, bet amount, win amount, minor jackpot and major jackpot.
Main Prizes to be Won
Minor Jackpot: One of the reasons Achilles Deluxe slot is an especially generous video slot is because it doesn't pack just one jackpot like most of its competitors, it has three different jackpots – one fixed and two progressives. The progressive jackpots come in the form of a minor jackpot and a major jackpot. The names are self explanatory – the minor jackpot is the smaller pot of the two. Since these are progressive jackpots, the value of the jackpot can fluctuate with time. The value counter is constantly on display at the top left-hand corner of the reel-set. On average, you can expect the minor jackpot pot to be around $300.
Major Jackpot: The Major Jackpot is the one that will send you smiling all the way to the bank. The major jackpot is also a progressive jackpot and is hence not fixed. How much the major jackpot is worth will vary from time to time. However, it is usually going to be at least five times what the minor jackpot is worth. On average, you can expect the major jackpot pot to hover around $1500.
Fixed Jackpot: The fixed jackpot is scored when you land a certain combination on the active paylines. The fixed jackpot is worth 2500 times your stake. Therefore, if you hit the fixed jackpot while spinning with a bet of $10, your returns are going to be $25,000 for that spin.
Why do South African players enjoy playing Achilles Deluxe Slot?
Achilles Deluxe Slotis fresh off the shelves and is making inroads in the South African online casino market. Plenty of online casinos that cater specifically to South African players have already sourced this game. So, why do South Africans love Achilles Deluxe slot?
Betting Range: Whether you are a very calculative player that likes to play with low stakes or you are a big roller, you can enjoy Achilles Deluxe either way. Bet from as little as $0.20 to as much as $100 per spin.
Mobile Friendly: Achilles Deluxe slot is mobile friendly and compatible with both iOS and Android devices. You don't have to go to the App Store and look for an app, you don't need one. Just use your mobile browser. However, since this has five reels and plenty of controls at the bottom, we recommend you play in landscape mode to space out the different buttons and make it easier to use.
Jackpots: We all love big wins, and Achilles Deluxe slot offers the opportunity to hit the big pot. This generous slot has not one, not two, but three different jackpots. The two progressive jackpots are called the minor jackpot and major jackpot. The fixed jackpot is worth 2500 coins. The minor and major progressive jackpots are triggered randomly.
Instant Play: Achilles Deluxe is a modern online slot that you can play without having to download or install any app or software. You can use browsers like Google Chrome or Safari in order to play Achilles Deluxe slot.
Similar Slots:
Achilles Deluxe is themed around ancient Greek and the protagonist is none other than Achilles himself, the Trojan War hero. If you like themes that involve ancient civilizations, Greek mythology, wars with horses, swords and shields or anything that looks like it is from the movie Troy, you might also enjoy the following slots.
300 Shields: Have you seen the movie 300? Well, that is exactly what you can expect 300 shields slot to look like. Join King Leonidas and his 300 brave soldiers on their conquest to defeat the Persian king Xerxes. 300 Shields is a game by Nextgen gaming and it features 5 reels and 25 paylines.
Apollo: Apollo is quintessential Greek mythology. Apollo was the son of the Greek god Zeus and the Titan Leto. He was the Greek god of music, medicine, sun and knowledge. In this slot game from CQ9 Gaming, Apollo is the front man. Apollo comes with free spins and 40 paylines.
Play Achilles Deluxe Slot for Real Money at these Casinos :
Other Slot Games You Might Like
FAQs
Does Achilles Deluxe Slot have a no deposit free spins bonus?
Achilles Deluxe Slot is a video slot game and not an entire online casino. No deposit bonuses are usually offered by certain online casinos. There is a possibility that a casino may soon offer a no-deposit free spins bonus on this slot in the near future.
Is a free play version available?
Yes, Achilles Deluxe slot is most certainly available in free play mode. The play for fun button is right at the top right of the video slot window at online casinos. However, if you want to play in free play mode, you don't even need to head to an online casino. Just scroll up on this page, we have it right here for you to try.
Can I play Achilles Deluxe Slot for real money?
Yes, Achilles Deluxe slot is primarily designed to be a real money online slot. You will need to sign up with a real money online casino in order to play for real money.
How much money can I win playing Achilles Deluxe Slot?
Achilles Deluxe has a top fixed jackpot of 2500 coins. Therefore, depending on how much you bet when you hit the fixed jackpot, you will win up to 2500 times that bet.
Yes, Achilles Deluxe has three jackpots. A fixed jackpot worth 2500 coins and two progressive jackpots called the minor jackpot and the major jackpot.
What's the theme of this slot game?
Achilles Deluxe slot is themed around Greek Mythology, specifically, the Trojan War hero – Achilles.
What are some of the best features in this game?
Achilles Deluxe slot's best features include the three jackpots, free spins, wild free spins and the ability to re-trigger the free spins rounds. Apart from these, the slot also has standard special symbols like a wild and scatter.
Get in on the action
Sign up now for the latest bonuses, promotions, and new online casinos.
Have You Found What You're Looking for?
Your feedback is paramount!