As a general rule of thumb, we always recommend that slots enthusiasts try a new slot in the demo mode or fun play mode first and then progress to actually putting real money on the line. This holds good for both newbies and veteran slot players. In fact, even if you're well versed with slot games from Realtime Gaming, playing at least a couple of rounds in demo mode is always a safe bet.
You can read every published review of an online slot, but playing it first-hand in demo mode is going to be the best way to get to know what it's all about. Playing in demo mode lets you understand the gameplay, the slot controls, how the bonus rounds work and what customizable settings are featured. Once you learn the ropes, by all means, you can go ahead and put some real cash on the line.
The free play or mode gives you a fun balance of $1000, which is plenty to get to familiarize yourself with the game entirely. The free play mode is available just like the real play mode – on both PC or mobile through a web browser, no app required.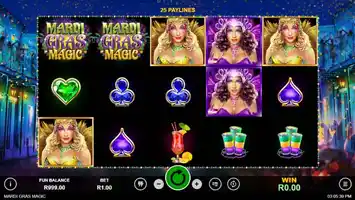 Game Features & Bonuses
Random Prize Award
The random prize award may be triggered, as the name suggests, anytime during any base game spin. If triggered, the award is multiplied by the line bet value and you get an instant prize which is added to your winnings right away.
Bursting Wilds
A bursting wild symbol has the potential to appear on any reel during a base game spin or during free games, it is more frequent during free games. A bursting wild symbol can turn other symbols on the reel at that time into bursting wilds as well and this increases the chances of a winning combination significantly.
Re-triggerable Free Spins with added Bursting Wilds
If you land 3,4 or 5 scatter symbols anywhere during the base game, you will be rewarded with 10, 15 or 20 free spin rounds respectively. These free spins must be played at the same bet value as the triggering spin and cannot be changed. During the free spins round the chances of bursting wilds appearing increases significantly. Furthermore, if you land 3 or more scatters in the free spins, you get additional free spins added on to the existing free spins.
Quickspin
You can enable or disable the quick spin option by clicking on the button which has a lightning bolt icon within it. When enabled, the button will have two lightning bolts within it. When Quickspin is enabled, the wait time in between you hitting spin and the reels coming to a conclusion is substantially reduced.
Autoplay
Instead of spinning the reels manually, you can setup auto play. You can configure auto play in terms of how many spins you want spun automatically and at what bet value. Once configured, you can let auto play spin the reels over and over again while you sit back and watch the action unfold.
How to Play Mardi Gras Magic
Mardi Gras Magic Slot is a pretty standard 5 reel slot which is not particularly complicated to play. In fact, if you've played other 5 reel, 25 payline video slots from RTG, you will feel right at home. Having said that, we do recommend playing a few times in demo mode just to learn the ropes. If you are a novice and need some instructions on how to start playing, you may simply follow the below instructions.
Open up your web browser (Google Chrome, Safari, etc.) and load up the Mardi Gras Magic slot
You can adjust your bet amount by using the "- and +" buttons.
Once you set the bet amount, press the green button with the circular anti-clockwise arrow to spin the reels
Now you wait and watch how the reels land – if you get consecutive matching symbols on any one of the 25 paylines, you will win money on that spin. If not, your balance will go down by the bet amount.
You can also setup auto spin, in order to do this, click on the spin button with two circular arrows and a play icon in the centre. Now you choose how many auto spins you want. It can be anywhere between 5 and 100 and then you push play. The reels will spin automatically at the bet value you have for as many times as you have prescribed.
Main Prizes to Be Won
Mardi Gras Magic slot is not a progressive jackpot. It has a fixed maximum possible pay out which can be achieved in a single spin. This maximum pay out is a massive 20,000 times the bet per line.
While the 20,000x prize is the biggest you can win, it is certainly not the only one. There are various bonus rounds where plenty of wins come by more frequently than in the base game. Bonus round is triggered when you land at least 3 scatter symbols.
Any prize is only won when identical symbols appear consecutively on one of the active 25 paylines from left to right. Line wins are multiplied by bet per line. Essentially, there are 25 paylines and landing matching symbols on any of these paylines will result in a prize being won.
Why do South African Players Enjoy Playing Mardi Gras Magic Slot?
Realtime Gaming is one of the oldest and best online slot developers in the world. Online casinos that serve a South African consumer base are usually rich with games from Realtime Gaming, and South African players have certainly grown fond of Realtime Gaming over the years.
Mardi Gras Magic slot is one of Realtime Gaming's latest releases. It was launched in 2021 and this new slot has certainly piqued interest amongst South African players. South African players, like players from everywhere else, will appreciate the visually stimulating theme and graphics, the excellent bonus rounds, the potential to win up to 800x your stake amount and the special features such as free spins, wilds and scatters. It's a modern video slot loaded with features and offers a great overall user experience.
Betting Range
It is important to consider the betting range of an online slot and ensure it fits your playing style and budget, before jumping aboard.
Online slots come in all shapes and sizes, and that certainly includes bet sizes. There are slots that cater to conservative players who like to penny pinch and play for spare change. On the other end of the spectrum are high rollers that live by the motto go big or go home. With respect to RTGs Mardi Gras Magic slot, we can safely say it lies somewhere in between the two extremes.
The minimum bet you can place is 0.25 and the maximum 62.5 while you can adjust the bet values by 0.25 up or down. This gives players plenty of room to play small or go big. This makes Mardi Gras Magic suitable for most kinds of players.
Mobile Friendly
In this day and age, online slots are expected to be mobile friendly. Gone are the days when being mobile friendly was an added value. With the latest technologies like HTML5 and JavaScript for front end development, making a website or a game responsive has become easier than ever. Mardi Gras slot is no exception, it is fully mobile optimized game which will automatically resize itself to fit mobile screens of varying dimensions. Whether you use an Android, iOS or Windows mobile device, you will be able to play Mardi Gras Magic on the go.
Progressive Jackpot
Mardi Gras Magic does not feature a progressive jackpot.
Instant Play
Be it on mobile or PC, Mardi Gras Magic is considered an instant play online slot game. You can play this slot instantly in a compatible browser like Chrome or Safari without having to first download or install any app or software. There are plenty of advantages when a game or online casino is instant play. To begin with, you don't have to download and install an app or software and that will save you both storage disk space and internet data costs. Secondly, you can play an instant play game from any supported device, even a public PC, where you may not have permission to download and install any software. The only requirement for playing Mardi Gras is that you have a supported PC or mobile with a web browser and stable internet connection.
Similar Slots
The universe of online slots has no dearth of Mardi Gras themed slot. RTG must concede, Mardi Gras Magic certainly isn't the first slot to be premised around the infamous Mardi Gras festival. If you have a thing for slots with a Mardi Gras theme and you loved playing Mardi Gras Magic slot from RTG, you may also take a liking to Mardi Gras Madness Slot from Williams Bluebird or WMS. Mardi Gras Madness online slot is the online rendition of WMS' mechanical, land-based slot machine which goes by the same name.
Like Mardi Gras Magic, Mardi Gras Madness is also a five reel slot machine. The bonus round here is triggered when you land 3 or more scattered bonus symbols, this results in free spins.
Another Mardi Gras themed slot is Mardigras Slots from MultiSlot. The similarities between Mardigras Slots and Mardi Gras Magic ends at the theme. Mardigras Slots from MultiSlot is a much simpler slot with just three reels.
If you are interested in more slots and games register at Apollo casino or in case you have an account find Apollo slots login instructions here. Also, don't forget that one of the best no deposit bonus offers can be found right there at Apolloslots. Check out the Apollo casino free bonus codes and have fun.
Other Slot Games You Might Like
FAQs
Does Withy Wins Slot Have A No-Deposit Free Spins Bonus?
No deposit free spin bonuses are generally issued as a welcome bonus by online casinos on certain video slots that they feature. Therefore, this is at the discretion of the online casino in question and not dependent on Mardi Gras Magic slot.
Is a Free Play Version Available?
Yes, you can play Mardi Gras Magic slot in free play mode or demo mode at most online casinos and even at certain game review webpages without having to put any real money on the line.
Can I Play Mardi Gras Magic Slot for Real Money?
Yes, you can play Mardi Gras Magic slot for real money. You need to be over the age of 18 and have an account with an online casino that features Mardi Gras Magic slot in their game library.
How Much Money Can I Win PlayingMardi Gras Magic Slot?
Even though it is not easy to come by, the highest payout possible in a single spin when playing Mardi Gras Magic slot is 800 times your total stake amount or 20,000 times the line bet value. The maximum bet allowed is 62.5 coins.
Mardi Gras Slot is not a progressive jackpot and neither does it feature a static jackpot.
What's the Theme of This Slot Game?
Mardi Gras Magic slot is themed around an annual carnival or festival which takes place in New Orleans. This is a street carnival which is a wild celebration that includes parades, dancers, masks, beads, flashy costumes and a lot of drinking.
What are some of the best features in this game?
Some of the best features of Mardi Gras slot are – Random Prize Reward, Bursting Wilds and Re-triggerable free spins.
Get in on the action
Sign up now for the latest bonuses, promotions, and new online casinos.
Have You Found What You're Looking for?
Your feedback is paramount!