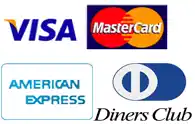 South African online casino players are able to access a variety of credit card banking methods. These include Mastercard, Visa card, Diners Club and Amex.
Mastercard and Visa card are definitely the two most popular options when wanting to use the safe and secure option of credit card payment for online casino banking.
Unfortunately not as many South African online casinos accept Diners Club, although some do, and even fewer will accept American Express, due to US banking legislation. There are some casinos that do accept this card, but they are rare.
It is really important to make sure that the casino you choose accepts your brand of a credit card before you begin playing. Generally, the website will have a banking page where all banking options are listed.
One issue when using a credit card on an online gambling site is that you are able to use money that is not yet in your account. While this gives great freedom to those players who know that they will be able to pay off their account at the end of the month, those who are unsure if they will have sufficient funds may run into trouble.
🔔 Advertising Disclosure: playcasino.co.za contains affiliate links to partner sites. By clicking these links and making a deposit PlayCasino may earn a commission. This does not impact bonuses or result in extra charges for players. Our reviews and recommendations remain impartial.
How to Open an Account
Generally, a player using a credit card will use a card that is also used for their general credit card banking, supplied by their particular bank. New credit cards must be applied for through the bank.
Deposits and Withdrawals
When using a credit card for online casino banking, it is as easy as accessing the casino site's banking page. Then just fill in your credit card details as you would for any other online purchase, and choose whether you wish to withdraw or deposit money into your online casino account. It is important to note that any transactions made on your credit card will be printed on the following month's statement. Some casinos list credit card payments made to or from them merely as 'purchases' but others may list the actual name of the casino on the credit card statement.
How to make a deposit via credit cards?
1. Go to the Cashier.

2. Select Credit or Debit Cards as a preferred banking method.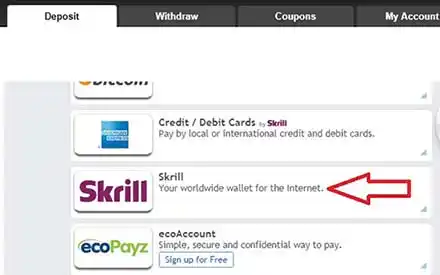 3. Provide your username and password and press the Login button.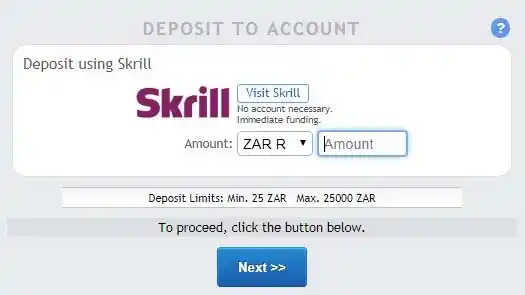 4. Enter the required details such as your card number, expiration date, card type, security code and an amount you want to deposit in ZAR. Check out the details provided and push the Deposit to Account button to send money to your casino account.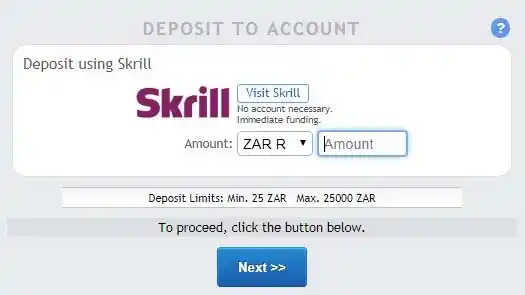 Frequently Asked Questions
How to withdraw via credit cards?
If credit cards are among supported withdrawal methods, go to the Cashier's and opt for this solution. Follow the steps and provide all the required details to complete a withdrawal.
Is a credit card a safe banking method?
Just like debit cards, credit cards are a 100% safe banking method you can use to fund your casino account and withdraw your winnings from it.
Will I be charged any additional fees when making transactions via credit cards?
Transactions made via credit cards are mainly free of any additional charges, but that can vary from one casino to another.
How long does it take to process deposits and withdrawals?
Deposits are in most cases processed immediately, so as soon as you complete your transaction, your funds will be available on your casino account. Processing cashouts usually takes longer and you may wait up to 3 days for your funds to be transferred from your casino account to your credit card. Sometimes, there is also a pending period which may be up to 72 hours long.
Get in on the action
Sign up now for the latest bonuses, promotions, and new online casinos.
Have You Found What You're Looking for?
Your feedback is paramount!